Richard C. Crist Jr. '77 Named New Chair of Muhlenberg College Board of Trustees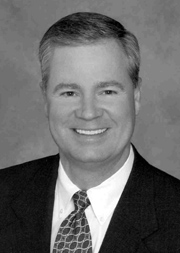 Richard C. Crist Jr. '77 has been named the new chair of the Muhlenberg College Board of Trustees.
Wednesday, May 1, 2013 10:21 AM
The announcement came following an election at the board meetings of April 26-27.
‌Crist, the President and Chief Executive Officer of the Allstate New Jersey Insurance Company, is a 1977 graduate of the College, and has had two children (Rick '05 and Samantha '09) graduate from the College. He was elected to the College's Board of
Trustees in 2006 after service on Muhlenberg's Board of Observers. Crist and his wife, Cindy, co-chaired the College's Parents'Council from 2004 to 2006. Crist most recently served the Board as chair of the trustee committee for Buildings, Infrastructure and Grounds, and as Secretary of the Board.
"Rich Crist is an outstanding choice to be the next board chair," said Muhlenberg College President Randy Helm. "He is widely respected by our trustees and alumni, has superb leadership and listening skills, a tremendous work ethic, and a deep knowledge of the institution."
"His broad business background in general management, ethics, compliance and risk management and his great passion for his alma mater, position him to be a superb board chair in a time of change and challenge for higher education. I look forward to working with him as we continue to move the College forward."

During his 30-plus years with Allstate, Crist has held numerous management positions including Chief Ethics and Compliance Officer, Field Vice President in Texas and previous service as President of Allstate New Jersey.

Crist assumes the chair July 1. He succeeds Richard Brueckner '71, former CEO of Pershing LLC and current Chief of Staff at Bank of New York Mellon. Brueckner will step down on June 30 after eight years as Muhlenberg College board chair. Brueckner, an alumnus married to an alumna also has two Muhlenberg children. He presided over a period of impressive growth and progress at Muhlenberg, including construction of new residence halls, a new science building, additions to the Student Union, the addition of the Brueckner Wing of the College's Life Sports Center, and the completion of a $110 million campaign.