Richmond, Peck Receive Teaching Awards at Commencement 2013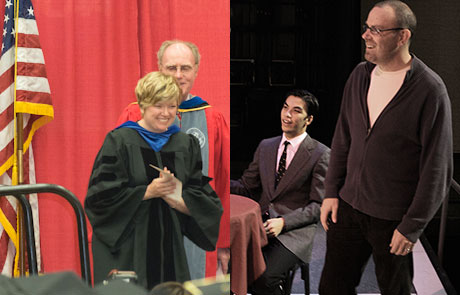 Dr. Katherine Richmond '00, associate professor of psychology, and Dr. James Peck, associate professor of theatre, were honored with teaching awards at Muhlenberg College's 165th Commencement on May 19, 2013.
Wednesday, May 22, 2013 08:39 AM
Richmond was selected to receive The Paul C. Empie '29 Memorial Award for Excellence in Teaching. This award, honoring excellence in inspirational teaching, is given in memory of the Rev. Paul C. Empie '29, D.D., a Muhlenberg Trustee and Chairman of the Board from 1972 to 1979.
After receiving her Ph.D. from Nova Southeastern University, Richmond joined the psychology faculty in 2006. She teaches a variety of courses including multicultural psychology, psychology of women, abnormal psychology, and research methods. She previously taught at The University of Pennsylvania and Nova Southeastern University. She is a licensed clinical psychologist and her research interests include gender studies, trauma and multicultural studies.
Peck is this year's recipient of The Christian R. and Mary F. Lindback Foundation Distinguished Teaching Award. The Lindback Award honors a full-time faculty member each year who exhibits a commitment to excellence in classroom teaching and a personal concern toward students' learning.
Peck joined the Muhlenberg faculty in 1999 after completing his Ph.D. in performance studies at New York University. He has directed more than 50 productions throughout the United States and published numerous scholarly articles. He serves as editor of the academic journal "Theatre Topics." His research interests include the theory and practice of directing, Restoration and eighteenth-century British theater, and contemporary African theater. In addition to Muhlenberg, he has taught at the Yale School of Drama, the New York University Tisch School of the Arts,and the Playwrights Horizons Theater School. Since 2006, Peck has served as chair of Muhlenberg's Department of Theatre & Dance.
To see highlights and photos of the weekend, visit the Commencement website.