Running with a "Point"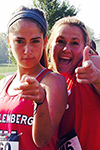 Earlier this month, the Muhlenberg women's lacrosse team ran in charity 5K race.
Thursday, October 31, 2013 01:52 PM
Senior Veronica Maccia filed the following report:
It was a great day for running. The sun was shining and there was a cool breeze to keep us company as we ran to support those not as fortunate as us.
Every year, as a team, we choose a cause to support that we find important. For the past two years, we have been running for the Turning Point of the Lehigh Valley because as a team, we know how crucial it is to have support from those around you, especially in times of need. The Turning Point is a place for victims of abuse to find refuge. Its mission is to eliminate domestic violence, increase awareness and empower victims. This organization helps over 5,000 victims of domestic violence each year.
Even though the cause of the race was enough to make us put forth all of our effort and run as fast as we could, it was also helpful that we were all in great shape since we had been working really hard and pushing ourselves during our fall-ball season. The scenic route was another plus as we ran the 3-mile race. Throughout the run, there were dogs running around, people fishing and spectators cheering us on.

smiling seniors Kaitlyn McCaffrey, Ally Shaffer, Rachel Chinman, Kelsey Mital, Michelle Certosimo and Veronica Maccia
Of course, no day can go on without a hitch and the people who were in the front got a little lost and made a wrong turn. Thankfully, they realized it before it was too late.
As a team, doing things together really brings us closer and helps us create a bond that will help us be successful on the field. We are looking forward to future community services activities that we will be partaking in throughout the school year.

left: Rachel Pedersen congratulates Casey Armstrong, who won her age group!
right: Double trouble – Stephanie Umbach and Alexandra Oberle
Read more on the Sports Information Blog