News Archive: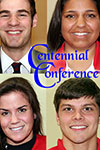 Ten honored for sportsmanship
Ten Muhlenberg athletes recently were recognized for their behavior on the field, court, course and track
Tuesday, May 21, 2013 03:20 PM
They were named to the 2013 Spring All-Centennial Conference Sportsmanship team.
The CC Student-Athlete Advisory Committee (SAAC) established the All-Sportsmanship team in 2007. Each team elected a member from their squad who displayed good sportsmanship throughout the season to be selected to the All-Centennial Sportsmanship team.
The Mules who were honored were:
• Alex Bellini, women's lacrosse
• Gabriela Contino, women's tennis
• Laura Glogovsky, women's golf
• Christopher Lucarelli, men's golf
• Nicole Pisani, women's track and field
• Jack Reilly, men's lacrosse
• Brett Rosen, baseball
• Max Suitovsky, men's track and field
• Elizabeth Sullivan, softball
• Jason Teitelbaum, men's tennis