Two earn All-CC tennis honors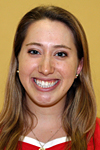 Junior Nina Sanders of the Muhlenberg women's tennis team earned two All-Centennial Conference nods
Monday, May 13, 2013 02:52 PM
Muhlenberg women's tennis juniors Nina Sanders and Emily Szulman are partners on the court and partners on the All-Centennial Conference team.
Sanders was selected to the All-CC singles second team by the league's coaches, and as a doubles team Sanders and Szulman received honorable mention.
Sanders compiled a 5-5 record at No. 1 singles in the CC and was 6-8 overall against a challenging schedule that included nine regionally ranked teams. Six of her losses were to players ranked in the top 20 in either the Atlantic South or Northeast regions. Sanders made a huge improvement from her sophomore season, when she went 2-11 (2-7 in the CC) in her first year as the Mules' No. 1.
As the No. 1 doubles team, Sanders and Szulman were 6-8 overall and 5-5 in the CC, with five of their losses coming to ranked duos. The Muhlenberg tandem came close to a couple of upsets, losing 9-7 to the 11th-ranked doubles team in the Atlantic South and 9-8 (7-5) to the 13th-ranked team.
Szulman, who was a second-team All-CC singles pick last year, leads active Mule players with 52 career wins through three seasons. Sanders is second with 38.
Muhlenberg finished in a three-way tie for fifth place in the CC with a 5-5 record in 2013 and were 5-10 overall for the year.
Click here for the complete all-conference team.