Two Football Players Earn CC Honors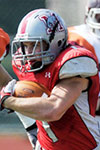 Two Muhlenberg football players were honored by the Centennial Conference for their play in 38-18 win against Susquehanna.
Sunday, October 6, 2013 11:29 AM
Junior linebacker Jeremey Thomas was named defensive player of the week, and junior kick returner Cody Geyer was named co-special teams player of the week.
Thomas (left) had five tackles for loss among his seven stops for a Muhlenberg defensive unit that allowed only 144 yards, nine first downs and three points (15 of the points were scored against the offense and special teams). One of his tackles for loss was a sack that forced a fumble on a third-down play, and he also intercepted a pass.
Thomas is third in the CC with 9½ tackles for loss and is tied for sixth with 3½ sacks. He is one of three players in the league to have forced two fumbles this season.
Geyer (right) returned six kicks for 174 yards and made the game-changing play, an 82-yard punt return with the Mules trailing 5-0 in the second quarter to set up the go-ahead touchdown. He set a school record by averaging 35.0 yards on four punt returns and amassed 265 all-purpose yards, the most by a Muhlenberg player since 2003.
Geyer is second in the CC with his average of 20.2 yards on punt returns; his 242 yards on punt returns at the midpoint of the season are already the most by a Mule since 2005. He also ranks second in the CC in yards per catch (21.9).