Wong saves dozen in scoreless tie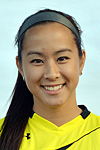 Senior Amanda Wong made a career-high 12 saves as the Muhlenberg women's soccer team recorded its fourth straight shutout
Tuesday, September 17, 2013 09:57 AM
There was nothing doing for the field players when Muhlenberg and Lebanon Valley met for the first time in women's soccer – the teams played to a scoreless draw.
The shutout was the fourth straight for the Mules (3-2-1), one short of the school record they set in 1999 and tied last year. Muhlenberg will attempt to tie the school record for consecutive shutouts when it welcomes top-ranked Johns Hopkins for its Homecoming game on Saturday.
Senior Amanda Wong played a tremendous game in goal, making a career-high 12 saves to neutralize a 20-8 Dutchmen advantage in shots and record her third career shutout.
Wong (left) denied two great scoring chances in the final two minutes of regulation and then again in the first overtime. Her 12 saves were the most by a Mule goalie in a scoreless tie since 1991.
Muhlenberg's best chance to score came off a corner kick with less than 10 minutes to play. Senior CJ Graetzer and sophomore Gabriela De Frutos got off consecutive shots on goal, but the Lebanon Valley keeper turned both away.
Click here for box score.
Click here for complete stats.
For the latest in sports, visit the Athletics website