News Archive: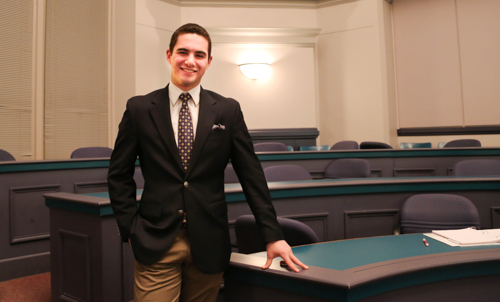 Brandon Hamilton '16 Looks Forward as Student Body President
Meet Brandon Hamilton '16, Muhlenberg College's new student body president. He's drawing on skills learned both in and out of the classroom to shape his actions in student government.
By: Collin Smith '14 Tuesday, March 11, 2014 04:26 PM
The sophomore drew on his past experiences as an Eagle Scout, his service as student liaison for Muhlenberg College's Board of Associates and his membership in Sigma Phi Epsilon during the campaign for Muhlenberg's Student Government Association. Despite a great deal of preparation and several discussions with outgoing president Rebecca Romano '14, the run-up to the election proved to be a daunting task.
"Time management during that campaign was one of my most difficult challenges," says Hamilton as he reflects upon a hectic week that was already more than filled with coursework and fraternity responsibilities.
But now that the election is behind him, Hamilton has time to build upon the accomplishments of the student leaders who went before him and focuses on his own term as president. One of current goals includes plans to bring prominent politicians or other public speakers to campus for conversations with students.
Hamilton believes that the learning opportunity would also build upon campus pride.
"Such an event could help students feel proud to be a part of Muhlenberg College," says Hamilton.
He has talked about streamlining the process for student clubs and organizations to receive student government funding. He hopes that by making the process for student clubs to request funds easier, new groups would be more likely to form and become established on campus.
In terms of lasting physical changes on campus, Hamilton plans to look into the feasibility of a charging station for smartphones and laptops in the Light Lounge of Seegers Union. He also thinks that providing even more healthy food options in the GQ is worth exploring.
When asked why he decided to run for student body president, Hamilton looked to his father as a mentor and as an aspirational leadership figure.
"My dad owns his own construction company, and I see his dedication to his job and the hours he puts into it," says Hamilton. He credits his father with learning how to successfully manage projects and how to build out and maintain a professional network.
Brandon Hamilton is currently undeclared with plans to pursue a major in business or finance.