News Archive: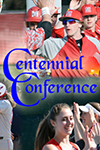 CC Championships schedules set
Of the six spring sports to hold regular-season qualifying, the Mules had four teams advance to the conference tournament – tied for the most in the league.
Tuesday, April 29, 2014 10:19 AM
Below is a schedule of the championships in which Muhlenberg teams will be competing, starting with women's tennis on Wednesday afternoon. Since the weather forecast is somewhat ominous for the week, please check for changes to the schedule and use caution when traveling to events!
WOMEN'S TENNIS
Wednesday, April 30
(5) Muhlenberg at (4) Swarthmore, 4:30

Saturday, May 3
Mules/Swarthmore at (1) Johns Hopkins, 11:00 (3) Haverford at (2) Franklin & Marshall, 11:00

Sunday, May 4 (at Johns Hopkins)
championship match, 11:00
WOMEN'S LACROSSE
Wednesday, April 30
(5) Muhlenberg at (4) McDaniel, 7:00

Saturday, May 3 (at Gettysburg)
Mules/McDaniel vs. (1) Gettysburg, 1:00
(3) Franklin & Marshall vs. (2) Washington College, 3:30

Sunday, May 4 (at Gettysburg)
championship, 1:00
BASEBALL
Thursday, May 1
game 1: (3) Muhlenberg at (2) Haverford, 3:00 game 2: (4) Johns Hopkins at (1) Gettysburg, 3:00

Saturday, May 3 (at Gettysburg)
game 3: loser game 1 vs. loser game 2, 9:00 game 4: winner game 1 vs. winner game 2
game 5: winner game 3 vs. loser game 4

Sunday, May 4 (at Gettysburg)
game 6: winner game 4 vs. winner game 5, 12:00 game 7: replay of game 6 (if necessary)
SOFTBALL
Saturday, May 3 (at Muhlenberg)
game 1: (2) Haverford vs. (3) McDaniel, 10:00 game 2: (1) Muhlenberg vs. (4) Washington College
game 3: loser game 1 vs. loser game 2
game 4: winner game 1 vs. winner game 2

Sunday, May 4 (at Muhlenberg)
game 5: winner game 3 vs. loser game 4, 10:00 game 6: winner game 4 vs. winner game 5
game 7: replay of game 6 (if necessary)