Emily Bayer '14 and her "Thinking Wall" display years of research discoveries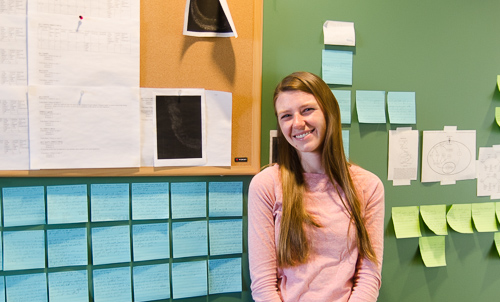 She's using molecular genetic techniques to study animal development.
Thursday, May 8, 2014 04:12 PM
If you're a frequent visitor to the second floor of the New Science Building, you've likely seen Emily Bayer's "Thinking Wall."
Between faculty offices and laboratory space sprawls a collection of bright blue and green notes, drawings, diagrams and the occasional Internet meme. The collection displays and chronicles the discoveries and processes that Emily has unveiled and developed over two years spent in Bruce Wightman's laboratory.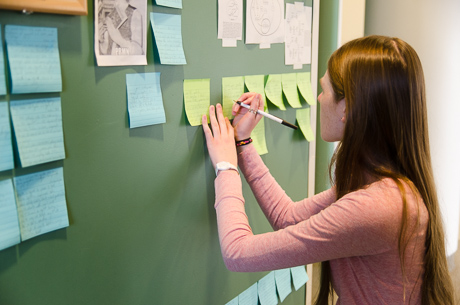 Emily, a biology and German studies major, structured the central focus of her research around using molecular genetic techniques to study animal development. She works with C. elegans, a type of roundworm called a nematode, that researchers have chosen as a good system for asking questions about animal development and studying how these questions apply to all other animals, including humans.
She first began the thinking wall two years ago while exploring how C. elegans respond to varying oxygen concentrations via a specific neuron type. In an attempt to compare what was already known to the discoveries she was making herself, a series of notes grew to help demonstrate connections. And as the problems and challenges posed by her research grew, so did the thinking wall itself.
Her most recent research topic explores a gene that is involved in controlling differences in types of neurons, an elaborate network of which make up the nervous system in human beings and other animals. That same gene plays a similar role in other types of cells that exist outside of an organism's nervous system.
Emily will begin a Ph.D. program in molecular biology this summer at Columbia University. She'll have rotations in two different laboratories studying the process of neuron specification, continuing to research projects similar to those she has explored the last few years in Bruce Wightman's lab.