News Archive: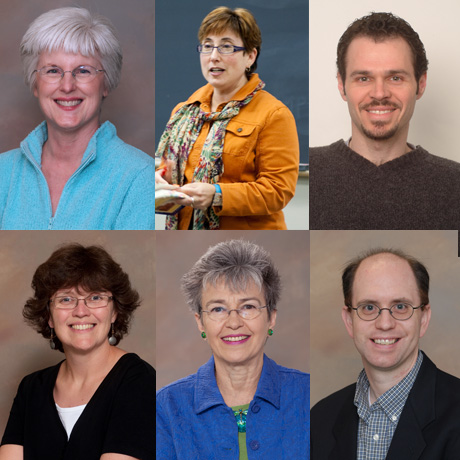 Faculty Promotions Announced
Six Faculty Members Have Earned the Title of Professor
Wednesday, April 30, 2014 03:13 PM
Muhlenberg College is pleased to announce the following faculty members have been promoted to professor by the Board of Trustees.
(As shown, clockwise from left: Dr. Diane Follet, Dr. Barri Gold, Dr. Jason Kelsey, Dr. Linda McGuire, Ms. Francine Roussel, Dr. John Sullivan)
Dr. Diane Follet has been promoted to professor of music. She teaches music theory, voice, a first-year seminar on genius and Mozart, women in music and co-teaches Physics of Music. She holds a bachelor of music with highest honors from the University of Texas at Austin, a master of music from the University of Arizona, and the doctor of arts from the University of Northern Colorado. Follet's dissertation was a two-part project consisting of composing a one-act chamber and supporting research on women in the 20th century. Her opera, Echo, received its world premiere in October 2000, and was selected for performance at Otterbein College's festival, "Women in Music: A Celebration of Accomplishment," in 2005.
Dr. Barri Gold has been promoted to professor of English. Gold's primary field is Victorian British literature and science, but she is also a scholar in gender studies and ecocriticism. With the publication of her book ThermoPoetics, she has been acknowledged internationally as leading scholar on 19th century literature and physics. This work enables her to bring to Muhlenberg classes that are taught nowhere else, such as The Death of the Sun, which explores the literary development of energy concepts. As a long time reader of the sensation fiction and speculative fiction, she also teaches such courses as Gender, Sensation and the Novel and Science Fiction and Fantasy.
Dr. Jason Kelsey has been promoted to professor of chemistry. His research interests are in two broad areas: the bioaccumulation of soil pollutants by plants and earthworms, and the biodegradation of organic compounds during their transport through soil. His research has resulted in several publications, posters and presentations. In addition to teaching several courses in chemistry and environmental science, he also provides students with opportunities to actively participate in all stages of his research.
Dr. Linda McGuire has been promoted to professor of mathematics. She received her B.S. from Seton Hall University and her Ph.D. from Stevens Institute of Technology. She has been a member of the campus community since 1999.
Ms. Francine Roussel has been promoted to professor of theatre. She was among the founders of the Actors Studio in Paris. She has written and performed her own shows, and continues her acting career in France and America. Roussel has appeared on Saturday Night Live, Sex and the City and in Sydney Pollack's film The Interpreter. She created Kicking Mule Theatre Company to develop work for alumni and faculty. She directed and acted in Jean Genet's The Maids, the company's first show. Before Muhlenberg, Roussel taught acting and directed at NYU's Tisch School of the Arts and the Stella Adler Conservatory. She was movement director for Nicholas Hytner's film, The Crucible, and mask coach on The Green Bird, directed by Julie Taymor, at The Victory Theatre. She also directed The Square, by Marguerite Duras at UBU Repertory Theatre in NYC. She has directed over 10 shows at Muhlenberg.
Dr. John Sullivan has been promoted to professor of media & communication. Sullivan's research explores the links between media industries and systems of social and economic power. More specifically, he focuses on the constructions of audiences within media organizations, the implementation of U.S. media policies, and on the political economy of cultural production. Recently, Sullivan has begun a longer-term project to study the political economy of free, open source software movements (FOSS), particularly the development and maintenance of the Debian Project, a free, GNU/Linux-based operating system which competes with Windows and Mac OSX.