News Archive: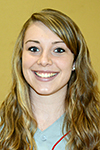 Jones named pitcher of the week
Junior Kelsey Jones (left) of the Muhlenberg softball team was named Centennial Conference pitcher of the week after throwing back-to-back shutouts.
Tuesday, March 25, 2014 10:32 AM
For the second time this season and the fifth time in her career, junior Kelsey Jones of the Muhlenberg softball team was named pitcher of the week by the Centennial Conference.
Jones pitched shutouts in both of her starts last week, extended her unscored-on streak to 18 innings. She tossed a four-hitter in the Mules' first win ever against The College of New Jersey and a six-hitter in the first game of the Gettysburg doubleheader. She struck out a total of six, did not walk a batter in the two games and held opponents to a .189 batting average.
For the season, Jones is 5-1 with a 1.07 ERA in six starts. The win in the Gettysburg game extended her winning streak in CC regular-season games to 11.
The Mules went 3-1 last week to run their season record to 10-2, tying the school record (set in 1989 and tied last year) for fewest games to reach double figures in wins.
Visit Muhlenberg Athletics to learn more.