News Archive: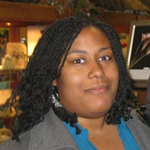 Martin Luther King Jr. Week Programming Announced
Muhlenberg College will celebrate the life of Martin Luther King Jr. with Unheard Voices: The Struggle for Inclusive Equality in the 21st Century, a week of interactive, interdisciplinary programming that runs from January 19 - 24.
Wednesday, January 15, 2014 03:49 PM

‌Events range from film-screenings and art exhibits to panels and lectures to open discussions about race and local issues. Speakers include Muhlenberg faculty members, guests from the University of Michigan – Ann Arbor and Temple University, nonprofit organizations and special guest Elia Wright '10, Ph.D. candidate in biological chemistry, (pictured) who will deliver the keynote speech. A full schedule of events is listed below.
The celebration is sponsored by the Africana Studies Program, the Black Students Association (BSA), the College Chaplain, the Dean of Academic Life, the Dean of Students, Dining Services, Hillel, International Studies, Multicultural Life, the Office of Alumni Relations and Development, the Office of Community Service and Civic Engagement and the Social Justice Collaborative.
All events are free and open to the public.
Schedule of Events
MLK Celebration
Keynote speaker Elia Wright '10, Ph.D. candidate in Biological Chemistry, University of Michigan-Ann Arbor
Seegers Union Event Space
January 19, 2:00 p.m.
Welcome Neighbor — The Collective Memory Project of the Lehigh Valley Exhibit
Seegers Union Light Lounge
January 19—February 5
Screening and discussion of King: a Filmed Record: Montgomery to Memphis
Facilitated by Roberta Meek, Lecturer, History and Media and Communication
Lithgow Science Auditorium (room 130), Trumbower Hall
January 20, 1:00 p.m. — 5:00 p.m.
Unheard Voices in the Fight for Social Justice
Social Justice Collaborative panel discussion
Seegers Union Event Space
January 21, 7:00 pm
The Role of International Organizations Against Human Trafficking in Helping the Survivors of Human Trafficking
A talk with Gerhard Rattai, Two and a Half Miles
Seegers Union Room 111-113
January 22, 7:00 p.m.—8:30 p.m.
Why Mass Incarceration Matters: A Roundtable Discussion
With Dr. Heather Ann Thompson, Temple University; Dr. Elizabeth Kai Hinton, University of Michigan-Ann Arbor; and Tyrone Werts, Consultant, Activist and Soros Justice Fellow 2013,
Seegers Union Great Room
January 23, 7:00 p.m.—9:00 p.m.
Dinner and Talk with Steve Thomas, National Coalition for the Homeless
Hillel
January 24, 7:00 p.m.—9:00 p.m.