News Archive: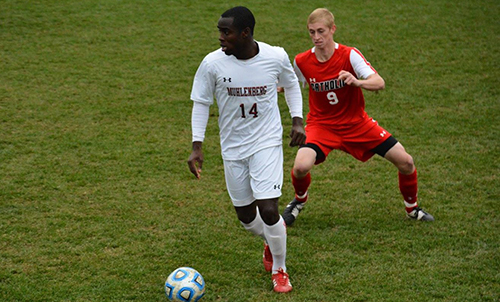 Men's Soccer to Host NCAA Sectional, Football & Cross Country Earn NCAA Spot
The Mules prepare for a weekend of NCAA playoff contention, beginning with Men's Soccer hosting "Sweet 16" v. Tufts on Saturday at 11:00 a.m.
Monday, November 17, 2014 04:15 PM
Men's Soccer
For the second time in five years, Muhlenberg was selected to host the sectionals of the NCAA Division III Tournament in men's soccer.
The Mules (15-1-3) will play Tufts (12-2-4) in a "Sweet 16" game at Varsity Field on Saturday, November 22 at 1:30, following a matchup between two-time defending national champion Messiah (20-0-1) and Cortland State (16-4-1). The winners on Saturday meet Sunday at 1:00, with the winner of that game advancing to the "Final Four" in Kansas City, scheduled for December 5-6.
Muhlenberg is in the "Sweet 16" for the fourth time in program history, having previously made it in 1995, 1997 and 2010. The 1995 team went on to the "Final Four," falling in penalty kicks to eventual national champion Williams. In 15 all-time NCAA appearances, Muhlenberg has a record of 9-13-4.
The Mules, ranked seventh in Division III by D3soccer.com and 10th by the National Soccer Coaches Association of America, advanced to the "Sweet 16" this past weekend with a 4-0 win against Baruch and a shootout win against Catholic following a scoreless tie. Muhlenberg hosted those games and is undefeated (11-0-2) at home this season.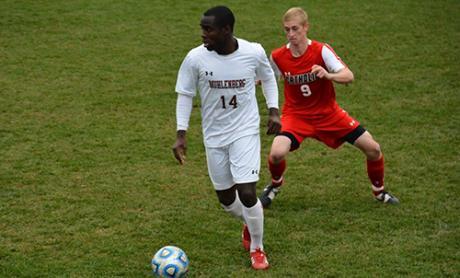 Muhlenberg enters this weekend's play with a nine-match unbeaten streak since its lone loss to Centennial Conference rival Franklin & Marshall – which is also in the "Sweet 16" at Oneonta State. Included in that stretch were a pair of 1-0 wins in the CC playoffs for the sixth CC championship in program history. The Mules have not given up a goal in their last five games and have allowed only 11 in 19 games all season.
Football
The Muhlenberg football team received an at-large bid to the NCAA Tournament and will play at Widener in a first-round game on Saturday, November 22. The game will mark the first time since 1982 that Muhlenberg and Widener football meet.
The Mules, ranked 24th in Division III by the American Football Coaches Association, will be making their seventh appearance in the NCAA Tournament and their 11th postseason appearance in the last 15 years. Muhlenberg is 2-6 all-time in the NCAA Tournament, winning first-round games in 2002 and 2007.
Widener (10-0) won the Middle Atlantic Conference championship and is ranked 10th by the AFCA and 11th by D3football.com. The Pride is 17-11 in the NCAA Tournament, including national championships in 1977 and 1981.
Cross Country
Jaryd Flank '17 was one of four regional runners who earned a spot in the NCAA Cross Country Championships, to be held on November 22 in Mason, Ohio (hosted by Wilmington College).
Flank has finished in the top 20 in all seven of his races this year, winning the Cedar Crest/Muhlenberg Invitational. This is the 10th straight year that Muhlenberg has sent at least one runner to the NCAA Championships in cross country.
Photo by Jessie Alcheh '16. This excerpt is part of two larger articles by Mike Falk, sports information director, and Allan Simon, assistant to the sports information director: Men's Soccer to Host NCAA Sectionals and Football Team, Flank Earn Bids to National Championships.