News Archive: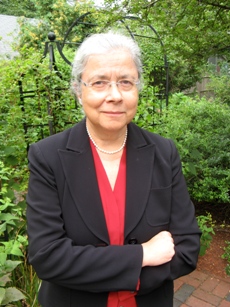 MIT Musicologist Ellen Harris to Speak at 'Berg
The talk will be preceded by student vocal performances.
Thursday, March 6, 2014 01:32 PM
Dr. Ellen Harris, a prominent musicologist from MIT, will give a public lecture entitled "Britons never, never will be slaves: Drama and politics in Handel's Israel in Egypt," on Thursday, March 13, at 8 p.m. in the Recital Hall of the Baker Center for the Arts at Muhlenberg College. Harris, who is this year's Phi Beta Kappa Visiting Scholar, will argue that Handel's composition depicts the drama of contemporary politics, especially concerning England's wars with Spain. Her talk will be preceded by student performances of Baroque vocal music beginning at 7:30 p.m. Admission is free and open to the public.
Harris is the Class of 1949 Professor at MIT. Her most recent book, Handel as Orpheus: Voice and Desire in the Chamber Cantatas (Harvard University Press, 2001), received the 2002 Otto Kindeldey Award from the American Musicological Society and the 2002-03 Louis Gottschalk Prize from the Society for Eighteenth-Century Studies. Articles and reviews by Harris concerning Baroque opera and vocal performance practice have appeared in numerous publications including Journal of the American Musicological Society, Händel Jahrbuch, Notes, and The New York Times. Her article "Handel the Investor" (Music & Letters, 2004) won the 2004 Westrup Prize. Articles on censorship in the arts and arts education have appeared in The Chronicle of Higher Education and The Aspen Institute Quarterly. From 1989 to 1996 Professor Harris served as Associate Provost for the Arts at MIT. She formerly taught at Columbia University (1977-80) and at the University of Chicago (1980-89), where she was Chairman of the Department of Music (1984-89). For the 1995-96 academic year, she was a Fellow at the Mary Ingraham Bunting Institute of Radcliffe College; in 1998 she was elected a Fellow of the American Academy of Arts and Sciences. In spring 2004, she was in residence as a member of the Institute for Advanced Study in Princeton, New Jersey, and in 2005 she won the Gyorgy Kepes Prize for her contributions to the arts at MIT. Professor Harris also performs as a soprano soloist; her appearances include in 1991 the National Anthem at Fenway Park and in 1997 her Boston Pops debut in Symphony Hall with John Williams conducting.
Since 1956, Phi Beta Kappa's Visiting Scholar Program has offered undergraduates the opportunity to spend time with some of America's most distinguished scholars. The purpose of the program is to contribute to the intellectual life of the campus by making possible an exchange of ideas between the Visiting Scholars and the resident faculty and students.