News Archive: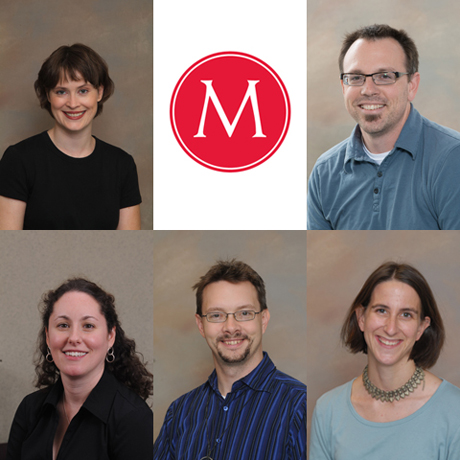 Muhlenberg College Announces Faculty Promotions
Muhlenberg College announces five faculty members have been granted tenure and promoted by the Board of Trustees.
Friday, February 21, 2014 11:11 AM

(Clockwise from left: Ms. Holly Cate, Dr. Adam Clark, Dr. Cathy Oullette, Dr. Tad Robinson, Dr. Jordanna Sprayberry)
The faculty members have been promoted to the title of associate professor by the Board of Trustees.
Ms. Holly Cate, theatre and dance, holds a B.A. from Harvard University and an M.F.A. from Brandeis University. She is an award-winning actor who has appeared on Broadway in An Ideal Husband, directed by Sir Peter Hall, and regionally in Blithe Spirit (Portland Stage), An Ideal Husband (Pioneer), All My Sons (American Stage), and Arms and the Man (Asolo), in addition to numerous New York theatre credits. Cate is a Stanislavski-based acting technique teacher with an emphasis on the role of the body in the actor's process. She is a member of the Screen Actors Guild, the Actors' Equity Association and the American Federation of Television and Radio Artists.
Dr. Adam Clark, physics, has a B.A. from the New College of Florida, an M.A. from the University of Texas, Austin, and an M.S. and Ph.D. from the University of Washington. His research interests include string theory and particle theory. He uses string theory to explore the interactions that bind quarks together to form neutrons and protons. Clark is also interested in whether quantum can violate Einstein's theory of relativity in a self-consistent manner.
Dr. Cathy Ouellette, history, joined the Muhlenberg community in 2008. She earned her B.A. in Hispanic studies and anthropology, an M.A. from the University of Pittsburgh, an M.A. from Emory University and a Ph.D. from Emory University. She is the director of the Latin American and Caribbean studies program, and she is affiliated with numerous Muhlenberg programs, including environmental studies, sustainability studies, African-American studies, women's studies, public health and Jewish studies.
Dr. Tad Robinson, philosophy, came to Muhlenberg in 2007. He holds a B.A. from Luther College, an M.A. from Northern Illinois University and a Ph.D. from Purdue University. His current research interests focus on the natural philosophy and metaphysics of Descartes and Spinoza. He has presented papers at the meetings of numerous professional associations, including the American Philosophical Association, the Central States Philosophical Association, the Midsouth Philosophy Conference and the North American Spinoza Society. At Muhlenberg, Robinson regularly teaches courses on critical thinking, the philosophy of religion, metaphysics and modern philosophy.
Dr. Jordanna Sprayberry, biology and neuroscience, earned a B.S. in zoology from the University of Rhode Island, received a Ph.D. in biology from the University of Washington and completed postdoctoral studies at both the University of Washington and the University of Arizona. Sprayberry's research uses insect models to investigate how the processing of sensory information drives behavior. Her research also explores the potential relationships between sensory processing and insect-plant interactions.