Renovations to East Hall take top prize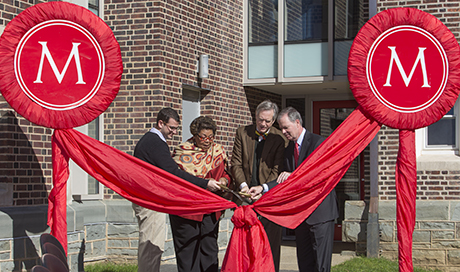 Spillman Farmer Architects received top honors for their design at the American Institute of Architects (AIA) Eastern Pennsylvania Design Awards.
Monday, December 8, 2014 04:00 PM
(Pictured: Zachary Zimmerman '15, head residence advisor, East Hall, joins Karen Green, dean of students, Randy Helm, Muhlenberg College president, and Rich Crist, chair of the Muhlenberg College Board of Trustees, to cut the ribbon on renovated East Hall on October 24, 2014.)
After reviewing nine entries from six firms, the 2014 jury presented Spillman Farmer's design for Muhlenberg College's East Hall with an Award of Excellence, the highest honor bestowed by the Chapter. Architects from Philadelphia-based design firm DIGSAU served as the jury for this year's awards.
"At more than 100 years old, East Hall holds a rich history and aesthetic quality that defines the experience of Muhlenberg College," Joe Biondo, Design Principal for Spillman Farmer Architects, said. "Our design aimed to transform the dormitory with a delicate hand, meeting new student requirements, while maintaining its historic charm."
The jury agreed that East Hall's design attained that goal. "We recognize the tremendous challenge of modernizing a 100-year-old building, maintaining the character but transforming it enough to be viable for another 100 years," said Jules Dingle of DIGSAU, speaking on behalf of the jury. "The architects quietly went about their business of adding the perfect punctuation to this building that surely would delight the architects of the original building, were they still with us."
The new, 13,000-square-foot addition includes 36 beds to accommodate Muhlenberg's growing student population, as well as common areas for studying and socialization. East Hall's existing 34,400 square feet were also renovated and upgraded, providing Muhlenberg's upper-class students with a desirable option for on-campus residence. Throughout the project, material selections create warm, inviting interiors and thoughtful historic details respects East Hall's original architecture.
Jan Schumacher, Muhlenberg College's Director of Residential Services, said that since the project's completion it has been a great success among students. "We are already seeing a stronger sense of community and connection with the students living in East Hall," Schumacher said. "Aesthetically, the addition blends seamlessly with the original building and I'm sure in years to come students will just assume the building has always looked the way it does now."
To ensure timely completion of the project, the design team deployed off-site and pre-fabricated construction strategies. Muhlenberg College's Capital Projects Manager David Rabold said that the College has always been a proponent of off-site construction techniques. "We were very much in favor of utilizing pre-fabricated construction strategies because it shortened construction time and did not disrupt our students with construction activities during the school year."
The entire new construction portion of the project was completed during the College's summer break, between May 20 and August 14 of 2013. Students moved in to the East Hall addition and into a renovated portion of the existing building at the start of Muhlenberg's academic semester on August 15th, which is when the remainder of the interior renovations began.
In addition to being honored for their work at East Hall, Spillman Farmer was also recognized with a Merit Award for renovations to Roessner Hall at Albright College in Reading, PA. Other firms recognized include R+D Architecture for their design of the Trifecta Technologies Headquarters in Allentown, Pa., MKSD Architects for their design of Northampton Community College's Monroe Campus in Tannersville, Pa., and Architect Eurgene Berg for his design of the Popolis-Martin Farmhouse in Kresgeville, Pa.