News Archive: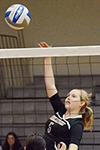 Volleyball season preview
The Muhlenberg volleyball team will look to take the next step after surging into the Centennial Conference championship match last year.
Monday, August 25, 2014 01:42 PM
Below is the transcript from a video preview of the 2014 Muhlenberg volleyball season. To watch the video, click on the video at above or here.
The Muhlenberg volleyball team had a breakout season in 2013, winning 20 matches and reaching the Centennial Conference final for the first time since 2001. So what do the Mules hope to accomplish in 2014? It's not too hard to figure out.
"We're really excited for this season because we feel that we have a really strong team coming into it," said senior setter Nikki Dickson, "and we're expecting to hopefully pull out the conference championship this year."
"To see that progression that we made from freshman year to our junior year was … amazing," added senior defensive specialist Julia Elkin. "Not only did we make it to the conference tournament, but we made it to the finals. And it was a really, really tough loss, but I think that just shows you how far we've come and what we can actually achieve. And so I was proud of us, but I think we're ready to tackle that same task again this year."
The Mules have two experienced setters in Dickson and junior Vanessa Pulice.
"A setter is kind of like a quarterback of a volleyball team," said Dickson. "We're running the offense, and it's really nice to have people that we're very confident to go to. It just makes a lot more of an exciting game, to have those really exciting kills. And we're really lucky and fortunate at Muhlenberg volleyball to have some tall hitters."
Those tall Mules include All-CC middle Katherine Boll, CC rookie of the year Allison Glass, senior Holly Hynson and juniors Joanne Josephson, Erin Murphy and Sarah Weyhmuller.
In the back row, Muhlenberg returns Elkin, All-CC libero Chelsea Kaser and sophomore Elizabeth Garrison.
"On defense, it's not only the back row," remarked Elkin. "We rely heavily on our blockers. That's how we set up our defense, and that's also how they take away a lot of the court space so that we're not running all over.
"The team chemistry this year is extremely strong," she added. "There's just a different feeling, I think, from last year, and we're trying to do even more team bonding experiences to make our chemistry improve, and I think it's truly helping. Right now, we're all tight-knit."
The Mules also have their own slogan this season: Win from Within.
"We feel that the desire to win is so much more than just competitive," explained Dickson. "… We really have to pull through, all together as a team and individually, to go through the hurdles that everybody faces during the season, and really push through any obstacle that we might face."
"Even with these few days of preseason, we've tremendously improved each session, and it's great to see," said Elkin. "And I'm extremely excited to see what we can actually achieve by the end of it."
Muhlenberg opens the season this weekend at Gettysburg's Battlefield Classic and returns home September 5 and 6 to host the Buttermaker Tournament.