Commencement speaker Charles Ogletree to grads: bounce back from failure, take risks, hold on to faith
Prominent Harvard law professor Charles Ogletree spoke to 517 graduates under clearing skies May 22 at Muhlenberg College's 168th Commencement. The ceremony took place on the College's front lawn with the iconic Haas College Center and its signature bell tower framing the stage.
Monday, May 23, 2016 11:21 AM
Ogletree, the Harvard Law School Jesse Climenko Professor of Law and founding and executive director of Harvard Law School's Charles Hamilton Houston Institute for Race and Justice, encouraged the graduating class to bounce back from failure, take risks and hold onto faith.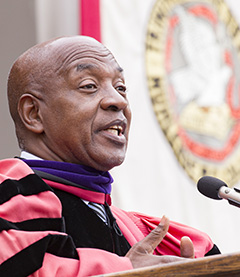 He shared anecdotes of times in his life and career that those themes were tested, like when a promotion he thought to be a sure thing was offered to someone else.
Ogletree said, "Life is likely to throw you some curve balls. But when they come, fear not, life isn't over. Take a little time to mourn your loss, and then be ready for new possibilities. Just as sure as there are curve balls, there are always, always new possibilities."
In his words to the class, Muhlenberg College President John I. Williams, Jr. encouraged the newest alumni to always remain connected to the College.
"We hope that your excitement on this day energizes you to stand for your alma mater, to support your alma mater and to share your love for Muhlenberg with everyone you meet. We will miss you in the daily life of the campus—but you remain part of the Muhlenberg Network always, no matter where you are," Williams said.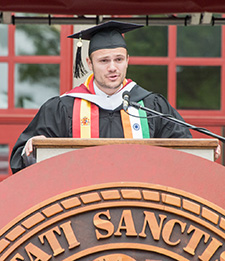 Student speaker Christian Paris, a member of the Class of 2016 and philosophy major, drew inspiration for his speech from his time spent studying abroad. Paris regaled the audience with the story of Dorjee-Tseten, a Tibetan man in exile from his homeland, who Paris met during his time abroad. A mentor and devoted scholar, Dorjee had a particular knack for inspiring young activists, and he hoped to inspire change in Tibet and the world.
Dorjee's message—that people must both grow themselves and work to grow others—stuck with Paris.
"Each and every one of us sitting in these hot chairs...has a gift that is uniquely our own. Whether it is being a brilliant dancer, math scholar, athlete, leader…we have gifts that are naturally a part of who we are," Paris said to his classmates. "This leads me back to the first part of Dorjee's response: we must grow the talents and gifts that we have within us: if we don't, then we waste the potential they have from empowering ourselves, and even inspiring others. Of course, this then segues into Dorjee's second purpose: we have the responsibility to nurture the gifts in others: for if we do not, how do we expect others to do the same in return?"
In addition to Ogletree receiving a Doctor of Laws, honorary degrees were presented to four individuals who are accomplished in their fields. The individuals and their degrees include historian and author David W. Blight, Doctor of Humanities; former U.S. Senator and sports legend Bill Bradley, Doctor of Humane Letters; historian and author Stephanie Coontz, Doctor of Humane Letters; and Lehigh Gap Nature Center executive director Dan Kunkle, Doctor of Science.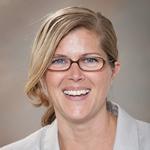 Two faculty members were honored for their dedication to and excellence in teaching.
Marcia Morgan, associate professor of philosophy and director of women's and gender studies, was awarded The Paul C. Empie '29 Memorial Award for Excellence In Teaching.
‌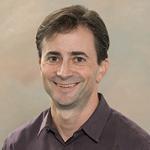 Mark Sciutto, professor and department chair of psychology, was awarded The Christian R. and Mary F. Lindback Foundation Distinguished Teaching Award.
Additionally, several members of the Class of 2016 were recognized for their excellence both in and out of the classroom. The co-valedictorians were Spencer Bigelow, a biology major, and Amanda Riley, a biology major with minors in public health and French. The salutatorian was Brittney Tuff, a mathematics and physical science major. Chayoot Chengsupanimit and Sarah Cromwell earned the Alumni Association Future Alumni Leader Awards.
Sunday's Commencement ceremony was part of a weekend of celebration for the Class of 2016 and their families. A baccalaureate service was held Saturday evening, and included prayers, music and reflections from a number of religious traditions.
The baccalaureate service also included a speech from President Williams, in which he said, "As you venture out from here and join new communities, I implore you not only to do well, but also to do good. Assert your moral selves in society's big debates. We need you to stand up not only for reason, but for civility; not only for smart dealing, but for straight dealing; not only for 'people like us,' but for all people."
Founded in 1848, Muhlenberg is a highly selective, private, four-year residential, liberal arts college located in Allentown, Pa., approximately 90 miles west of New York City. With an undergraduate enrollment of approximately 2200 students, Muhlenberg College is dedicated to shaping creative, compassionate, collaborative leaders through rigorous academic programs in the arts, humanities, natural sciences and social sciences as well as selected pre-professional programs, including accounting, business, education and public health. A member of the Centennial Conference, Muhlenberg competes in 22 varsity sports. Muhlenberg is affiliated with the Evangelical Lutheran Church in America.