Muhlenberg announces partnership with Lehigh University MS in Management program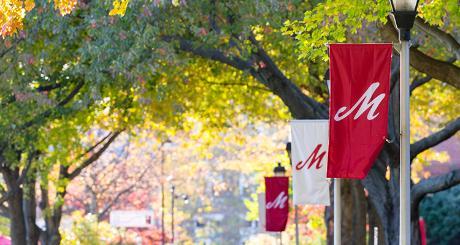 The partnership offers qualified Muhlenberg students a continuous path to a graduate degree in business.
Friday, December 2, 2016 01:59 PM
Muhlenberg College and Lehigh University College of Business and Economics MS in Management (M2) program are excited to announce a partnership designed to streamline admission for qualified Muhlenberg College students into the Lehigh M2 program.
The M2 program is designed specifically for undergraduate students with degrees in STEM or liberal arts who want to leverage their undergraduate majors in a business leadership role.
"After graduation many Muhlenberg graduates, steeped in the liberal arts and sciences, pursue careers in the business world," said Holmes Miller, professor of business and chair of the accounting, business, economics & finance department at Muhlenberg. "Lehigh's program focuses on this type of individual. After graduating from Muhlenberg with a solid liberal arts foundation, this program will enable our graduates to be even more competitive in the business world."
The M2 program offers a strongly executed business curriculum that complements the high-quality liberal arts education for which Muhlenberg College is known.
Beyond the exceptional academic experience offered at Lehigh, professional development opportunities, including exposure to prospective employers through projects and case studies as well as international immersions, are available and encouraged.
Academically qualified students will enjoy an abbreviated application process including an application fee waiver and standardized test waiver. Lehigh's presence will be evident on campus through on-campus information sessions and individual meetings with prospective students. Students may apply at the end of their junior year and be accepted, pending completion of their undergraduate degree.
Muhlenberg's department of accounting, business, economics & finance strives to develop knowledgeable, independent thinkers who are passionate about a life of learning and prepared for rewarding careers in diverse professions. The department integrates the very best traditions of the liberal arts with thorough pre-professional studies, nurturing the intellectual agility necessary for success in a dynamic world. The department's curriculum offers opportunities for learning within and beyond the classroom, fosters exploration of social and ethical responsibilities and equips students with the ability to formulate and solve problems and make decisions. The faculty members are passionate about teaching, value close relationships with students and are committed to the importance of professional involvement and research.
Founded in 1848, Muhlenberg is a highly selective, private, four-year residential, liberal arts college located in Allentown, Pa., approximately 90 miles west of New York City. With an undergraduate enrollment of approximately 2200 students, Muhlenberg College is dedicated to shaping creative, compassionate, collaborative leaders through rigorous academic programs in the arts, humanities, natural sciences and social sciences as well as selected pre-professional programs, including accounting, business, education and public health. A member of the Centennial Conference, Muhlenberg competes in 22 varsity sports. Muhlenberg is affiliated with the Evangelical Lutheran Church in America.