Professor Daniel Klem's status as a leading avian mortality expert affirmed at Niagara Falls event
The leading world expert on bird-window collisions, Dr. Daniel Klem Jr., Sarkis Acopian Professor of Ornithology & Conservation Biology at Muhlenberg, was recognized on Dec. 12 for his research contributions that led to the installation of bird-friendly glass on the Observation Tower at America's oldest state park, Niagara Falls.
Wednesday, December 14, 2016 02:58 PM
Klem's research of over 40 years led to the glass design that prevents birds from colliding into the windows at this historic site and around the world.
The unveiling of a new sign, which recognizes Klem's contributions, was part of the Dec. 12 recognition ceremony. The sign reads:
The striped design of the tower and the research documenting the threat that sheet glass poses to birds is from the scientific work of Daniel Klem, Jr., Sarkis Acopian Professor of Ornithology and Conservation Biology at Muhlenberg College in Allentown, Pennsylvania.
"It is so humbling to have our scientific work at Muhlenberg College recognized and highlighted at New York's Niagara Falls State Park for the life-saving value it has for billions of birds worldwide," said Klem.
The College was well-represented at the recognition ceremony, with President John I. Williams, Jr. and Acopian Ornithological Specialist Peter Saenger in attendance, in addition to Klem. Klem's recognition was covered by several media outlets including The Buffalo News and The Daily Progress.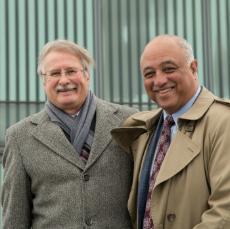 In 2001, considerable concern was expressed at the Falls regarding impact on birds, as the area is designated as a globally-significant "Important Bird Area" (IBA). An environmental analyst at the New York State Office of Parks was looking for preventative measures that could be taken to reduce the instances of bird-window collisions. She came across research prepared by Klem, which included crucial information about what birds could see and not see. The original design for rebuilding the observation tower at the Falls called for mirrored glass, so their team reached out to Klem, who helped provide design recommendations to prevent bird collisions, and he advised on specifications for the glass manufacturer. The resulting striped glass design can be seen behind Klem and President Williams in the photo at right.
Mark W. Thomas, Western District Director, New York State Parks, said, "Visitors travel to Niagara Falls each year for different reasons but one of the most popular reasons is that people love to experience the nature of the Niagara Gorge. The Niagara River Corridor was designated by Audubon in 1996 as the first internationally designated 'Important Bird Area' and so the fact that we can make their journey a bit safer is a very vital part of our mission here at New York State Parks."
Klem earned his Ph.D. from Southern Illinois University at Carbondale, and was honored with a D.Sc. from Wilkes University for his research on the birds of Armenia and his pioneering studies of human-associated avian mortality from bird-window collisions. He serves as the Sarkis Acopian Professor of Ornithology and Conservation Biology at Muhlenberg College, where he has taught since 1979 – specializing in ornithology and avian conservation.
Klem has spent more than four decades inspiring students with a love of learning and research as well as an abiding concern for the health of the earth and all its creatures. His research interests involve the encounter between birds and humans in general and the preventable encounters between birds and plate glass windows, which Klem's research estimates at billions of bird deaths a year.
Founded in 1848, Muhlenberg is a highly selective, private, four-year residential, liberal arts college located in Allentown, Pa., approximately 90 miles west of New York City. With an undergraduate enrollment of approximately 2200 students, Muhlenberg College is dedicated to shaping creative, compassionate, collaborative leaders through rigorous academic programs in the arts, humanities, natural sciences and social sciences as well as selected pre-professional programs, including accounting, business, education and public health. A member of the Centennial Conference, Muhlenberg competes in 22 varsity sports. Muhlenberg is affiliated with the Evangelical Lutheran Church in America.