Muhlenberg to host visiting Israeli artist this spring
Sharon Vazanna, a Schusterman Visiting Israeli Artist, will teach in Muhlenberg's dance program during the spring semester.
Tuesday, January 26, 2016 02:05 PM
Vazanna will also present a performance on campus with her Israeli dance partner Tamar Sonn on March 17. Trailers of the creations that will be performed, A HIGH and Transparent Borders, can be viewed on Vimeo.

"I am very excited about my semester here at Muhlenberg, and looking forward to teaching young American dancers," said Vazanna. "Performing and sharing my work with audiences here at Muhlenberg and in the U.S. is a unique opportunity that I very much look forward to."

Vazanna is one of nine leading Israeli artists in residence at colleges and universities across the U.S. for the 2015-16 academic year through the Israel Institute's Schusterman Visiting Israeli Artist Program. Celebrated in a variety of disciplines, including choreography, music, the visual arts and literature, the artists spend a semester teaching and presenting their work to audiences in local communities through classes, exhibitions and performances.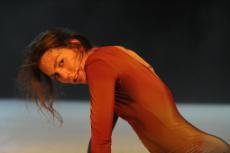 Founder of The Sharon Vazanna Dance Group, Vazanna is an independent choreographer and dancer. Her creations were invited to perform in the U.S, Italy, Switzerland, Germany, Sweden, Spain and Denmark.

As a dancer, she toured internationally with the Kibbutz Dance Company and the Idan Cohen Dance Company, Israel; and the Cullberg Ballet, Sweden; among others.

Videos of her work are available on Vimeo and her website. Of one of the creations that will be performed on campus in March, Ori Lenkinski of the The Jerusalem Post said, "With the creation HIGH, Vazanna once again affirms her perspective as a powerful female artist."

Before the semester started, Vazanna performed at the prestigious 92nd Street Y in New York City. Her 92Y performance was previewed in a New York Times article earlier this month.

Founded in 1848, Muhlenberg is a highly selective, private, four-year residential college located in Allentown, Pa., approximately 90 miles west of New York City. With an undergraduate enrollment of approximately 2200 students, Muhlenberg College is dedicated to shaping creative, compassionate, collaborative leaders through rigorous academic programs in the arts, sciences, business, education and public health. A member of the Centennial Conference, Muhlenberg competes in 22 varsity sports. Muhlenberg is affiliated with the Evangelical Lutheran Church in America.