Ten Named to Sportsmanship Team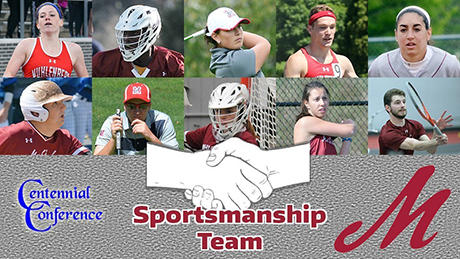 Ten Muhlenberg athletes were recognized for their behavior on the field, course, court and track with their selection to the 2016 Spring All-Centennial Conference Sportsmanship Team.
Wednesday, June 8, 2016 10:56 AM
Established by the CC Student-Athlete Advisory Committee (SAAC), the All-Sportsmanship Team honors a member from each squad who displayed good sportsmanship throughout the season.
The Mules who were honored were: (clockwise from top left, above)
Emily Boyle, women's track and field
Jashon DeSenna, men's lacrosse
Aine Filler, women's golf
Jaryd Flank, men's track and field
Alexis Giovinazzo, softball
Adam Halpern, men's tennis
Jenny Levenson, women's tennis
Kiersten Mulvey, women's lacrosse
Evan Overcash, men's golf
Andrew Rava, baseball
For more about Athletics, please visit muhlenbergsports.com.