Women's Basketball Climbs into Top 10 Ranking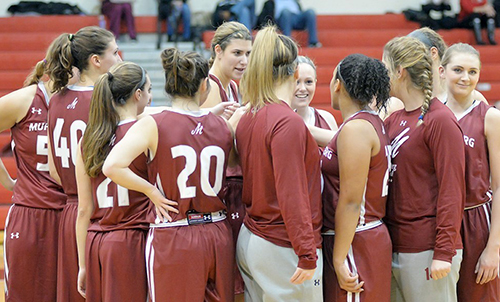 The Muhlenberg women's basketball team may have been idle on the court between semesters, but not in the polls.
Tuesday, January 5, 2016 04:32 PM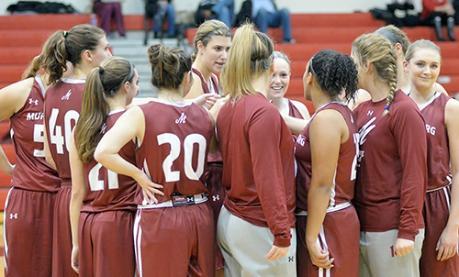 ‌
The 8-0 Mules moved up to No. 10 in the first D3hoops.com poll of 2016. It's their first time in the top 10 since 2012, when they climbed as high as No. 9. The highest ranking in program history was No. 8 during the 2001-02 season.

Muhlenberg has not played since December 12, when it defeated local rival DeSales, 86-78, for its 26th win in 29 games. In the D3hoops.com poll that came out two days later, the Mules were 14th.

The holiday period that followed was a topsy-turvy time in Division III women's basketball. Of the 13 teams ranked ahead of Muhlenberg in the previous poll, three lost once and four lost twice, allowing the Mules to move up despite not playing.

One of 13 remaining undefeated teams in Division III (there were 24 when the last poll came out), Muhlenberg continues to rank among the Division III statistical leaders in several categories. The Mules are second in assists per game and fewest fouls per game, sixth in assist-to-turnover ratio, seventh in field-goal percentage defense and scoring margin, 11th in blocked shots per game and 12th in scoring offense.

Individuals who rank in the top 20 statistically are sophomore Brandi Vallely (first in assists per game and 14th in steals per game), sophomore Rachel Plotke (ninth in three-pointers per game) and senior Christina Santone (17th in blocked shots per game).

Muhlenberg returns to action with a stretch of four games in eight days beginning Thursday with a home contest against Dickinson. The next two games are against the teams that finished ahead of the Mules in the Centennial Conference preseason poll - Johns Hopkins (away on Saturday) and McDaniel (home on Tuesday).
This article was originally published on MuhlenbergSports.com, home for information about women's basketball and other athletic teams.