A $10,000 Prize Will Help This Student Build Her Teen-Empowerment Organization
Val Weisler '20, recipient of a 2017 L'Oréal Paris Women of Worth award, started an anti-bullying crusade that has evolved into a much broader social-justice project.
By: Meghan Kita Wednesday, November 1, 2017 03:00 PM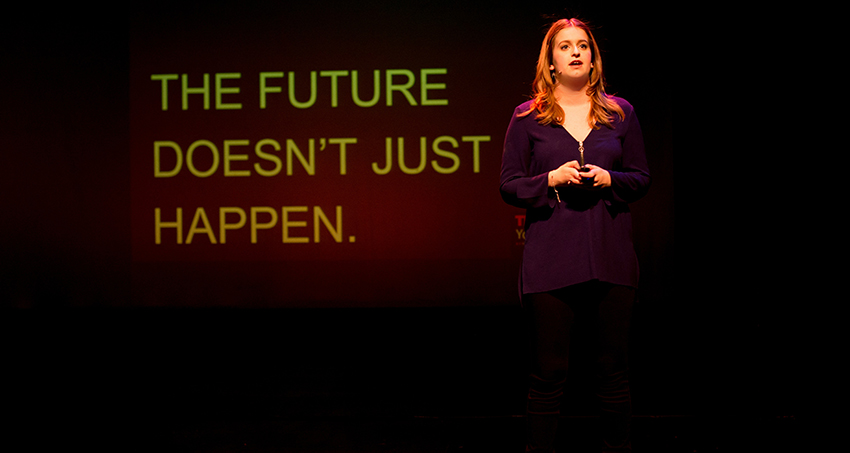 Val Weisler '20 gives a TEDx Talk titled "Turn On Your Light" during her senior year of high school. Photo courtesy of Val Weisler.
Today, L'Oréal Paris announced that Val Weisler '20, who's pursuing a self-designed major in educational advocacy, is one of the 10 recipients of the company's 2017 Women of Worth awards. That means she'll receive $10,000 to support her teen-empowerment organization, The Validation Project, with a chance to earn another $25,000 if she can get the most votes here.
The award is appropriate because, as Val says, The Validation Project is focused on "showing teens that they have worth." And that's been Val's focus since the first act of kindness that inspired her to start the organization.
In Val's first year of high school, kids bullied her for being shy. "People would come up to me and ask if I was physically able to talk," she says. She was, and she used her voice to empathize with another student she saw being bullied: "You matter," she told him. He then confided in her that he'd been planning to commit suicide that night, but that her kind words had "really validated him."
That evening, Val built a website that addressed her school's bullying problem and shared it on Facebook. Classmates chimed in with their stories of victimization, and they started a lunchtime meetup group. This website and group grew into The Validation Project.
At first, the goal was to reduce bullying through what Val calls "two-part validation:" the group would pair a student with a mentor who would teach them more about something they were interested in, and then the student would "pay it forward" by using those skills for good in their community. "Bullies see they can feel big not by hurting someone else but by helping someone else," Val says. It's a pro-kindness, entrepreneurship curriculum meant to replace the anti-bullying curriculum that proved ineffective at Val's school.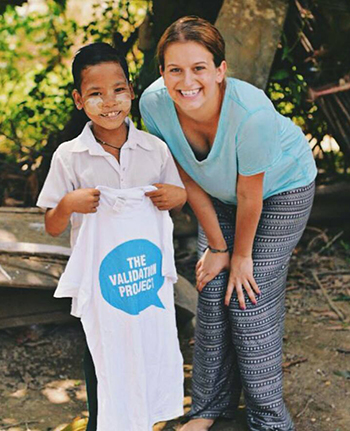 Since then, though, the group's objectives have become more diverse, as its reach has grown to include 105 countries (including Myanmar, where the photo at right was taken) and 1,000 schools. "Now, we don't just focus on bullying but whatever issues teenagers are going through, whether that's a lack of education for female students in a developing country or the experience of coming out as gay in Oklahoma," Val says.
At Muhlenberg, Val has organized campaigns on campus, including one in which young women wrote encouraging letters to girls after last year's presidential election. She's also brought on board her friend Olivia Gaynor '20, a media & communication major, to help spread the word about The Validation Project. Olivia created the Project's celebrity ambassador program, which includes Jazz Jennings (of TLC's "I Am Jazz") and Nia Frazier (of Lifetime's "Dance Moms"), and helps manage the group's social media presence.
"It's all about inspiring young people to be themselves and do whatever they want to do in life, which is something everyone can benefit from," Olivia says. "I thought Val's message should be projected out to more people because she was doing such great work."
The Women of Worth award money will help with that effort: Val hopes to build an app that would help users learn what action they can take in their communities at any given time, and to host a Validation Project conference. "It'd be great to have all the chapters and teens meet each other face to face," Val says. "Some of them have been communicating online for the past five years."
This fall, Val is balancing a series of speaking engagements at Canadian WE Day Events—stadium-sized gatherings of young people that focus on enacting positive social change—with her schoolwork. "I'm really lucky that my professors are really supportive of what I do," Val says.
Education professor John Ramsay, whom Val counts as one of her mentors, is one such professor. "Val brings an intense intellectual curiosity about difficult human problems, the honesty to confront inconvenient facts, an eagerness to explore the gaps between academic models and real world behaviors and a hunger for feedback about what she's misreading or not entirely grasping," Ramsay says. "She's building this Validation Project, growing it, making it resilient and durable."
It means a lot to Val that her professors are able to speak to the important work she's doing outside the classroom. "One of the reasons I love Muhlenberg is it's a small college and the professors care about you," Val says. "You're not just a name on a sheet; you're a student with a personality."