Artist Coco Fusco gives lecture on "The Art of Intervention"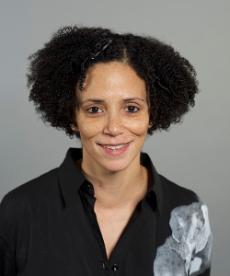 Muhlenberg College hosts artist as Mellon Foundation Humanities Scholar in Residence
By: Victoria Marsala '17 Wednesday, March 15, 2017 11:36 AM
Cuban-American interdisciplinary artist and author Coco Fusco will be making an appearance on Muhlenberg's campus this month to discuss her most recent work. Fusco is visiting as one of Muhlenberg's Mellon Foundation Humanities Scholars in Residence. "The Art of Intervention" will take place on March 21 at 7:00 p.m. in Seegers Union 111-112 and is free and open to the public.
Fusco is the Andrew Banks Endowed Professor of Art at the University of South Florida. She began her journey as an educator in 1995 teaching at Temple University and eventually went on to teach at Columbia University, Parsons The New School for Design, and Fundação Armando Alvares Penteado. Fusco received her B.A. from Brown University in literature and society/semiotics magna cum laude, her M.A. from Stanford University in modern thought and literature and earned her Ph.D. in art and visual culture at Middlesex University.
Fusco has exhibited her videos and performances internationally, and her artwork has been displayed at the Tate Liverpool, the Museum of Modern Art, the Walker Art Center and the Museum of Contemporary Art in Barcelona. In addition to her art, she has written and edited several books, including her latest release titled Dangerous Moves: Performance and Politics in Cuba (Tate Publishing, 2015).
She is a recipient of a number of fellowships and awards, including the 2014 Cintas Fellowship, the 2013 Guggenheim Fellowship and the 2003 Herb Alpert Award in the Arts.
The Mellon Foundation supports Muhlenberg's Humanities Scholar in Residence, which provides each department the chance to host a scholar. Through this program, the Mellon Foundation aids the college in its goals to "broaden and deepen the conversation" around topics such as global engagement and human diversity, strengthen the intellectual community among Muhlenberg's humanities departments and establish these short term stays as a norm at the College.
Founded in 1848, Muhlenberg is a highly selective, private, four-year residential, liberal arts college located in Allentown, Pa., approximately 90 miles west of New York City. With an undergraduate enrollment of approximately 2200 students, Muhlenberg College is dedicated to shaping creative, compassionate, collaborative leaders through rigorous academic programs in the arts, humanities, natural sciences and social sciences as well as selected pre-professional programs, including accounting, business, education and public health. A member of the Centennial Conference, Muhlenberg competes in 22 varsity sports. Muhlenberg is affiliated with the Evangelical Lutheran Church in America.