Muhlenberg Commencement speaker Judy Woodruff challenges graduates to "be good citizens"
Broadcast journalist Judy Woodruff spoke to 544 graduates May 21 at Muhlenberg College's 169th Commencement. The ceremony took place on the College's front lawn with the iconic Haas College Center and its signature bell tower framing the stage.
Monday, May 22, 2017 11:25 AM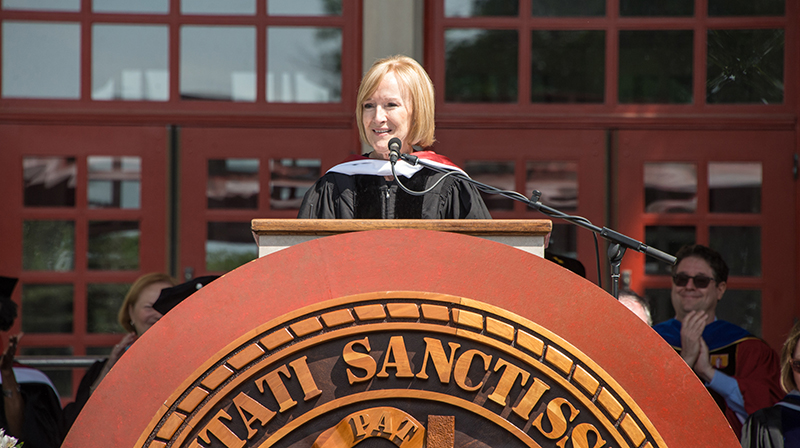 Woodruff, anchor and managing editor of PBS NewsHour, encouraged the graduating class to be generous with their time and money when it comes to causes that are important to them, and also to remain informed and active citizens.
She said, "I would submit at this particular moment in the history of our country, there's a particular way you can give back, as good citizens. Right now, as a country, we are too polarized: in our politics, in the news media we consume and even in our personal interactions. I encourage you 2017 graduates to reject some of the false choices you'll come across, and instead embrace, for lack of a better term, a principled center."
In his words to the class, Muhlenberg College President John I. Williams, Jr. charged the graduates with not only being good citizens of the world, but also of one particular community—the strong network of Muhlenberg alumni.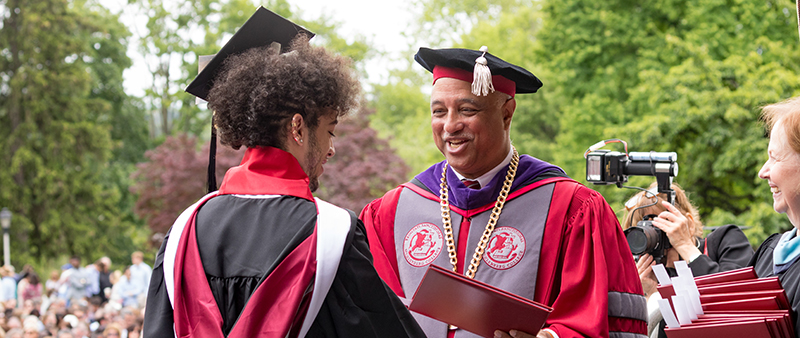 "We hope that your excitement on this day energizes you to stand for your alma mater, to support your alma mater and to share your love for Muhlenberg with everyone you meet," he said.
‌
Student speaker Mahsheed Mahjor, a member of the Class of 2017 and an Afghani citizen, who graduated with a bachelor of arts in women in the socio-political world (self-designed major) and international studies with a concentration in peace & conflict studies, echoed the good citizenship theme that ran through Commencement weekend remarks.
She referenced the hardships faced by many around the world, including those in her home country. She added that education is not something to be taken for granted, and her own education has well-equipped her to face challenges in today's interconnected and complex world.
She said, "During these past four years, we have marched, celebrated, questioned, protested from Seegers Union to Washington D.C., laughed, cried, dialogued, resisted, cared, achieved, failed and stood back up together. These have enabled us to…build further bridges between Muhlenberg and the world. The world is full of events that excite, scare, upset and inspire us, from the new human innovations to the refugee crisis and to the individuals that rise wholeheartedly against the violation of human rights. We are living in a world that needs more equity, peace, compassion, love, respect, support, empathy and—most of all—hope! Additionally, the social, economic, religious and political aspects of our societies require us to think about the world in complex ways and move away from our biases. Thus, it is immensely important to remember that for strong and vigilant citizenship we need to continue to foster and enrich our analytical and critical thinking abilities."
In addition to Woodruff receiving a Doctor of Humane Letters, honorary degrees were presented to three individuals who are accomplished in their fields. The individuals and their degrees include Dr. John C. Mather, senior astrophysicist at NASA's Goddard Space Flight Center, Doctor of Science; Jawole Willa Jo Zollar, founder of Urban Bush Women performance ensemble, Doctor of Arts; and Dr. Leonard Zon '79, founder and director of the Stem Cell Program at Children's Hospital Boston and the Grousbeck Professor of Pediatrics Chair at Harvard Medical School, Doctor of Science.
The honorary degree candidates participated in discussions with the campus community during the inaugural Evening of Excellence programming on Saturday of Commencement weekend.
One faculty member was honored for her dedication to teaching. Connie Wolfe, associate professor of psychology, was awarded The Paul C. Empie '29 Memorial Award for Excellence In Teaching. This award, honoring excellence in inspirational teaching, is given in memory of the Rev. Paul C. Empie '29, D.D., a Muhlenberg Trustee and Chairman of the Board from 1972 to 1979.
Additionally, several members of the Class of 2017 were recognized for their excellence both in and out of the classroom. The valedictorian was Elizabeth Garrison, a chemistry major and business minor. The co-salutatorians were Lauren Kenney, a neuroscience major, and Emily Kosinski, a neuroscience major and religion studies minor. Mahjor and Philippa Roberts earned the Alumni Association Future Alumni Leader Awards.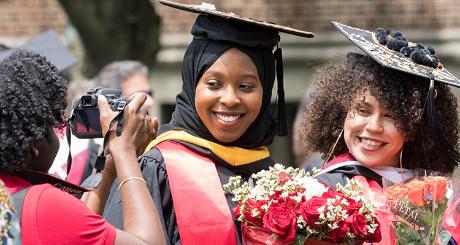 Sunday's Commencement ceremony was part of a weekend of celebration for the Class of 2017 and their families. In addition to the Evening of Excellence programming, a baccalaureate service was held Saturday evening and included prayers, music and reflections from a number of religious traditions.
The baccalaureate service also included a speech from President Williams, in which he said, "As you join new communities, I implore you not only to do well, but also to do good. Assert your moral selves in society's biggest debates and on society's biggest stages. We need you to stand up not only for reason, but also for civility; not only for smart dealing, but for straight dealing; not only for 'people like us,' but for all people. As we seek to open doors for ourselves, let us also open doors for others not fortunate enough to have the kind of education you have earned here at Muhlenberg."
2017 Commencement Weekend Slideshow
Founded in 1848, Muhlenberg is a highly selective, private, four-year residential, liberal arts college located in Allentown, Pa., approximately 90 miles west of New York City. With an undergraduate enrollment of approximately 2200 students, Muhlenberg College is dedicated to shaping creative, compassionate, collaborative leaders through rigorous academic programs in the arts, humanities, natural sciences and social sciences as well as selected pre-professional programs, including accounting, business, education and public health. A member of the Centennial Conference, Muhlenberg competes in 22 varsity sports. Muhlenberg is affiliated with the Evangelical Lutheran Church in America.