Dig In For Duke
Muhlenberg College will host "Muhlenberg Gives" - a blood drive and marrow registration drive - on Friday, September 1, in Seegers Union.
Monday, August 28, 2017 09:45 AM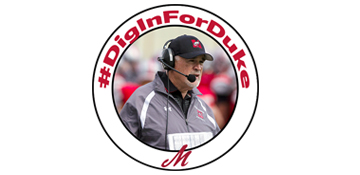 The event is part of the #DigInForDuke campaign, which began after Muhlenberg head football coach Mike Donnelly was diagnosed with acute monocytic leukemia in the spring of 2017 and chose to use his condition as an opportunity to raise awareness about cancer.

Donnelly is scheduled to receive a bone marrow transplant in early September and will miss the majority of the season while recovering.

The blood drive, held in conjunction with the Miller-Keystone Blood Center, will take place in Seegers 111-112 from 9 a.m. to 5 p.m. Muhlenberg has 122 time slots, and donors should go to the following link to reserve a spot: https://donor.giveapint.org/donor/schedules/drive_schedule/39243

The marrow registry drive, held in conjunction with Be the Match and the Andy Talley Bone Marrow Foundation, will take place in Seegers 113 from noon to 4 p.m. Participants do not need to reserve a time slot but are asked to fill out a pledge form. Testing to join the marrow registry involves a simple swab of the cheek.

Individuals may register to join the marrow registry on their own at: http://join.bethematch.org/DigInForDuke

The Muhlenberg College Athletic Department will be tabling in Seegers Union every day in the week leading up to the event, beginning Monday, August 28, to assist with registrations and pledges.
Student-athletes and other student volunteers will help run the event. All registrants and/or donors will receive a custom t-shirt for participating, and Sodexo and the Muhlenberg Bookstore are donating prizes to be given away and raffled off.

Muhlenberg will continue to raise awareness and funds, through donations and t-shirt sales, at the home football opener vs. Wilkes on Saturday, September 2.
This article is part of a series that covers the #DigInForDuke campaign and the associated events and advocacy work of coach Mike Donnelly. For more content, visit MuhlenbergSports.com.