Grant Builds Upon Muhlenberg's Digital-Learning Partnership with an Allentown High School
Support from the Trexler Trust is helping Building 21 teachers implement digital technologies like podcasts into their teaching with support from Muhlenberg faculty, staff and students.
By: Meghan Kita Monday, November 6, 2017 03:03 PM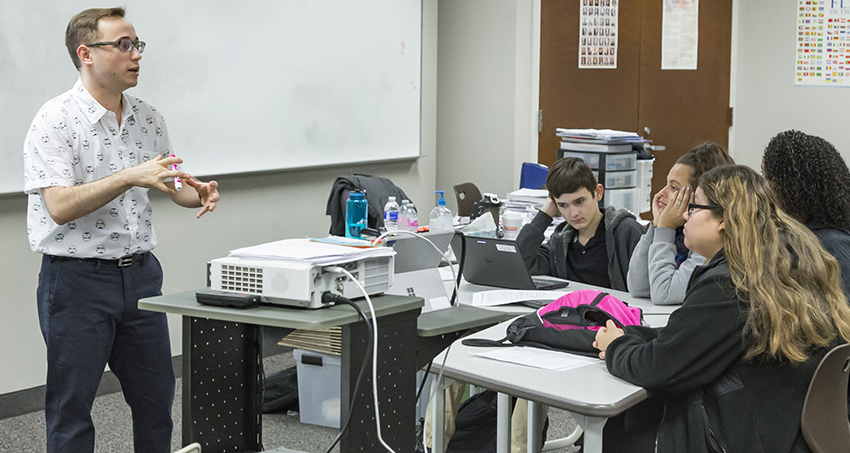 Karl Schultz '18, a Muhlenberg Digital Learning Assistant, introduces a lesson about interviewing to students at Allentown's Building 21. Photos by Paul Pearson.
In the city of Allentown's newest high school, Building 21, a 10th grade class listens to part of today's lesson. Their teacher, Jamal Arnaout (below, in blue), stands off to the side, also listening. The two college students (one from Muhlenberg, one from Temple) who are helping lead today's class are at the front of the room, but they, too, are silent. The lesson comes from speakers hooked up to a laptop. It's a segment produced by Youth Radio called, "Is Your Halloween Costume Racist?" It begins:
When young adults hunt for a last-minute Halloween costume, it's often hard to walk the line between cool and offensive. After all, there's quite a bit of "offensive" out there.
In a Halloween chain store in Berkeley, Calif., it takes less than a minute for me to find a costume called "Mexican Man." Just putting the name right out there. It includes a sombrero, mustache, and poncho.
I asked shopper Marisol Rodriguez, who happens to be Mexican-American, "Is this weird?"
"I find it offensive when folks, especially privileged people, walk around being a Mexican for a day—not really knowing the social issues that come with that," Rodriguez replied.
Though the story's content is timely on this mid-October day, the students aren't specifically studying racism or current trends. They're here to learn how to conduct an interview—how to decide who to highlight, which questions to ask and how much weight to give each interviewee's responses—en route to producing audiovisual or audio-only stories of their own in the coming months.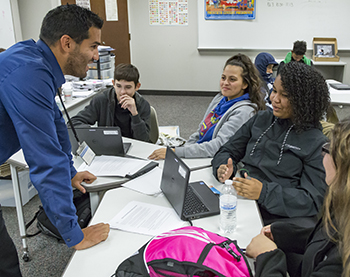 Complementing A Unique Learning Environment
These students are part of Building 21's digital learning "pathway," the terminology the school uses to describe the elective courses that accompany more traditional subjects to help each student tailor their curriculum to their interests. Along the way, they engage in hands-on projects—with teachers, with each other and, increasingly, with community partners including Muhlenberg faculty, staff and students—that help them develop skills they likely wouldn't in a traditional school.
"A large part of our pathways program is the career connectedness," says Kristyn Senneca, a pathway coordinator and founding teacher at Building 21 who helps facilitate the partnership with Muhlenberg. "We want students to envision taking what they've learned and applying it outside the classroom."
This environment makes Building 21 an ideal partner for one of Muhlenberg's longtime programs, Healthy Youth Peer Education (HYPE). HYPE began in 2006 as a summer and after-school initiative and, since last year, has been part of Building 21's digital learning pathway. In HYPE, Building 21 students create short documentary films with guidance from Muhlenberg students, staff and faculty. This spring, Muhlenberg received a one-year, $15,250 grant from the Harry C. Trexler Trust to fund the Building 21 Digital Learning Community Program, which builds upon the current HYPE partnership.
"It has been a major focus of my 16 years here to introduce and sustain a youth media program," says Lora Taub-Pervizpour, associate dean for digital learning, media & communication professor and HYPE co-director. "Thanks to this grant and to our growing relationship with Building 21, they've asked us, 'Can we have more HYPE?' This grant will help us grow HYPE-style activities in other spaces at Building 21, to reach more students and meaningfully involve more teachers."
HYPE has engaged about two dozen Building 21 students per semester who work in groups under the leadership of a single Building 21 teacher and Muhlenberg College alumna, Heather Harlen '97. They collaborate with and receive guidance from Muhlenberg's HYPE team, including HYPE co-directors Jenna Azar (instructional design consultant) and Tony Dalton (digital cultures media assistant) and students enrolled in the Youth Media course in the College's media & communication department.
The Building 21 Digital Learning Community Program currently engages more Building 21 teachers and students with two Digital Pedagogy Professional Development Workshops that are currently underway this fall. In these workshops, the Digital Learning Team and the Muhlenberg student Digital Learning Assistants (DLAs) introduce teachers who aren't involved with the digital learning pathway to digital storytelling, podcasting and social annotation (technology that uses a Google Chrome plugin to allow students and teachers to interact via comments on live web pages). Two DLAs are on site at Building 21 for 10 hours each week to collaborate with and support teachers and students as they implement these technologies.
For example, if a history teacher or a science teacher wanted to develop a podcasting assignment, that teacher could schedule classroom time with DLAs as he or she introduced the project to students and helped them work on it. "This way, teachers aren't alone in risking new assignments that often bring a lot of high stakes because they're tech-intensive," Taub-Pervizpour says.
"Building 21 and HYPE are committed to student-centered learning that is project-based, experiential, and collaborative," Azar says. "With this collective vision in mind, the DLAs are able to work in partnership with teachers and students to form a wider support network for technologically and digitally rich educational opportunities at Building 21."
The Partnership in Action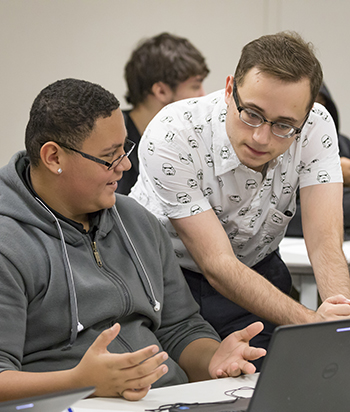 After listening to the Youth Radio segment, the 10th grade digital learning students compare questions they would have asked one of the interview subjects featured on the show, a spokesperson for a national costume chain, if they'd been producing the segment. Then, the Digital Learning Assistant leading the activity, Karl Schultz '18, asks students to pair up and interview one another about something they're wearing—a piece of jewelry, an article of clothing—to find an interesting story.
It's a place to start for students who may be eyeing much weightier topics for their final projects, which will be presented in January, at the end of their second marking period. One group is reporting on Deferred Action for Childhood Arrivals (DACA); another, on crime in Allentown. Juan Gonzalez (left, with Karl), 15, a student in the latter group, says they're hoping to speak with students, teachers and hopefully a police officer to better understand criminals' motivation and the effect of crime on the city's residents.
"This is something pretty big, bringing in an official and talking to someone who's actually legit," Juan says. "What we're doing in digital media is giving information to people. Building 21 has these opportunities. The school doesn't offer you just one thing."
"One of our main messages to the students of B21 is that they have not only a right but a duty to tell their story," Karl says. "Though we direct that into digital storytelling through photography, interviews, and podcasts, the importance of telling your story, regardless of if you share it with the world, is an important lesson for any student of any age."
Going forward, the plan is to introduce Building 21 teachers to new technologies each semester, provided the program continues to receive funding. "Our team is committed to intentionally developing workshops around the curricular interests and needs of the teachers," Taub-Pervizpour says. This continued engagement will also help Muhlenberg faculty, staff and students expand their digital-learning horizons: "The collaboration with Building 21 is a model for putting into practice Muhlenberg's strategic-plan goals around fostering meaningful relationships in the community that are mutually beneficial and centered on student learning."