Late Run Lifts Women's Basketball to Comeback Win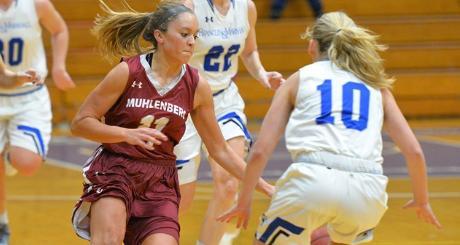 Muhlenberg outscored the Diplomats 40-18 in the second half, ending the game on a 17-0 run to come away with a 72-58 win.
Wednesday, January 11, 2017 08:46 AM
The Mules (8-4, 6-2), who trailed by as many as 17 points in the first half, held the Diplomats (5-7, 3-4) to five second-half field goals and five fourth-quarter points.
Junior Brandi Vallely flirted with a quadruple-double, finishing with 22 points, eight assists, a career-high eight steals and seven rebounds. Junior Christina Manning also scored in double figures with 11 points.

Muhlenberg trailed 58-55 two minutes into the fourth quarter and pitched a shutout the rest of the way. After a putback by senior Maggie Zerbe brought the Mules to within a point, Vallely took an inbounds pass under her own basket, dribbled the length of the court and spun in the lane for a layup. She drew a foul and converted the free throw to complete the three-point play, giving Muhlenberg the lead for good with 5:58 remaining.
This article is an excerpt and was originally published on MuhlenbergSports.com, the official source for Muhlenberg Athletics news.