Moody's reaffirms Muhlenberg's bond rating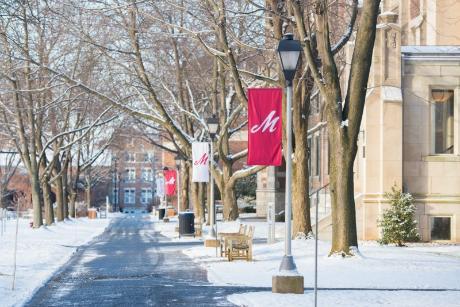 Moody's Investors Service has re-affirmed Muhlenberg College's A1 rating on its Series of 2017 College Revenue Bonds, issued through the Lehigh County General Purpose Authority, which mature in 2037.
Monday, January 23, 2017 11:17 AM
"Muhlenberg College has always been vigilant about its finances," said Kent Dyer, the College's chief business officer and treasurer. "We are pleased to receive this recognition from a highly respected third party."
According to Moody's, the A1 rating reflects the strength of Muhlenberg's unrestricted liquidity position, which provides operating flexibility and a strong cushion relative to debt. The rating also incorporates the college's prudent financial management, which produces consistently solid operating performance providing for strong debt affordability and resources for strategic investment.
Moody's also confirmed that the financial outlook for the College is stable, and affirmed the A1 ratings on the College's outstanding rated debt. Read more on the Moody's website.
Founded in 1848, Muhlenberg is a highly selective, private, four-year residential, liberal arts college located in Allentown, Pa., approximately 90 miles west of New York City. With an undergraduate enrollment of approximately 2200 students, Muhlenberg College is dedicated to shaping creative, compassionate, collaborative leaders through rigorous academic programs in the arts, humanities, natural sciences and social sciences as well as selected pre-professional programs, including accounting, business, education and public health. A member of the Centennial Conference, Muhlenberg competes in 22 varsity sports. Muhlenberg is affiliated with the Evangelical Lutheran Church in America.