Muhlenberg College again recognized for theatre excellence by The Princeton Review
The theatre program at Muhlenberg College has once again been named one of the nation's best for undergraduate education, according to The Princeton Review.
Tuesday, August 1, 2017 11:30 AM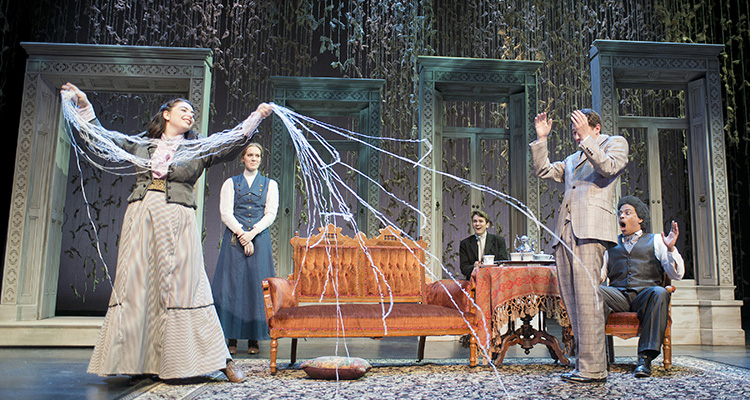 Muhlenberg College students participate in six mainstage shows each year, in addition to numerous student-produced productions. Last year's mainstage season included Chekhov's "The Cherry Orchard" (directed by Matthew Moore). Photo by Ken Ek.
The Princeton Review features Muhlenberg College in the new 2018 edition of its flagship college guide, "The Best 382 Colleges." In addition to the College's #7 ranking for "Best College Theater," Muhlenberg's dining services earned a #17 ranking for "Best Campus Food."
Muhlenberg appeared on both of these lists in the 2017 guide, landing at #1 for "Best College Theater" for the second time in six years and #16 for "Best Campus Food." The theatre program has ranked in the top 12 of the "Best College Theater" list in nine of the last 10 years.
"There is a place for everyone on campus. We have a huge theater program, yet almost 30 percent of [Muhlenberg College] participates in athletics, so you can see there are all extremes and everything in between," wrote one student in response to The Princeton Review's annual survey.
The student summed up the diversity of interests within the student body and alluded to the support Muhlenberg provides as students pursue their academic, professional and personal passions. Other survey respondents praised the College's rigorous academics, sense of community, supportive and engaging professors and variety of College-sponsored events, as well as local highlights, such as Allentown's public parks system.
"We're delighted to have Muhlenberg College recognized yet again for our outstanding offerings in theatre," said John I. Williams, Jr., Muhlenberg's president.
"Muhlenberg is a leader in providing world-class preparation for a career in the performing arts. Our theatre & dance graduates are working both on and off the stage, on Broadway and in professional theater companies through the United States, and our alumni open doors for those coming along behind them. Many of our theatre & dance students choose Muhlenberg because, here, they can double major in any of our other programs, including pre-med, neuroscience, media & communication, business, finance and public health. At Muhlenberg, theatre students—as all our students—can have it all!"
"We're grateful for the continuing recognition," added Charles Richter, founder and director of Muhlenberg's theatre program. "A superb faculty, strong facilities and Muhlenberg's steadfast commitment to the program have allowed us to maintain a standard of excellence and retain national prominence from year to year."
The rankings for Muhlenberg and other colleges listed in this edition are entirely based on The Princeton Review's survey of 137,000 students attending the colleges. The 80-question survey asks students to rate their colleges and universities on several topics and report on their campus experiences at them. Topics range from their assessments of their professors as teachers to opinions about their college's career services. The Princeton Review explains the basis for each ranking list at http://www.princetonreview.com/college-rankings/ranking-methodology.
The Princeton Review is an education services company known for its tutoring, test-prep courses, books and other student resources. It is headquartered in New York, NY and not affiliated with Princeton University.
Founded in 1848, Muhlenberg is a highly selective, private, four-year residential, liberal arts college located in Allentown, Pa., approximately 90 miles west of New York City. With an undergraduate enrollment of approximately 2200 students, Muhlenberg College is dedicated to shaping creative, compassionate, collaborative leaders through rigorous academic programs in the arts, humanities, natural sciences and social sciences as well as selected pre-professional programs, including accounting, business, education and public health. A member of the Centennial Conference, Muhlenberg competes in 22 varsity sports. Muhlenberg is affiliated with the Evangelical Lutheran Church in America.