Muhlenberg College announces agreement with American University's Kogod School of Business
The partnership with American provides outstanding Muhlenberg economics and finance students with preferential access to a highly competitive master's program in finance.
Monday, September 4, 2017 08:15 AM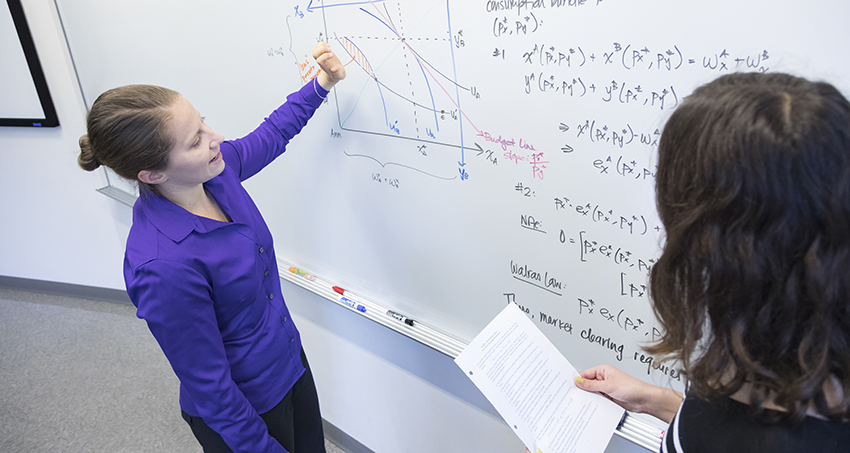 Lindsey Nagy, assistant professor of economics, works with a Muhlenberg student.
Muhlenberg College announced an agreement with American University's Kogod School of Business that allows Muhlenberg's outstanding students to pursue scholarships and receive preferential access to American's master's of science in finance (MSF) program.
The collaboration gives Muhlenberg economics and finance students—who complete required courses, meet specific academic criteria and have the recommendation of a designated faculty member—preferred access to American's MSF program and eligibility for a $10,000 tuition scholarship.
"This is a wonderful opportunity for our top students in economics and finance," said Art Raymond, professor of economics and finance. "This agreement provides Muhlenberg's best economics and finance students preferential access to a highly competitive master's program in finance geared towards various professional certifications. Due to American's location in the nation's capital, students also have access to significant internship opportunities available during study.
American's MSF program offers an innovative and intellectually sophisticated curriculum that prepares graduates for leadership positions in the financial sector. Students have the opportunity to craft their own degree with courses in investment banking, financial intermediation in emerging markets, investment analysis and more. The focused curriculum also prepares students for professional certifications, such as Chartered Financial Analyst (CFA) and Chartered Alternative Investment Analyst (CAIA), among others.
About Muhlenberg
Founded in 1848, Muhlenberg is a highly selective, private, four-year residential, liberal arts college located in Allentown, Pa., approximately 90 miles west of New York City. With an undergraduate enrollment of approximately 2200 students, Muhlenberg College is dedicated to shaping creative, compassionate, collaborative leaders through rigorous academic programs in the arts, humanities, natural sciences and social sciences as well as selected pre-professional programs, including accounting, business, education and public health. A member of the Centennial Conference, Muhlenberg competes in 22 varsity sports. Muhlenberg is affiliated with the Evangelical Lutheran Church in America.


About The Kogod School of Business
American University is known for its distinctive character – as a place where students learn from leaders in their fields and are engaged in active citizenship. Our Washington, D.C. location serves as a laboratory for learning through work, internships, and other forms of experiential education.
The Kogod School of Business embodies this character. We know that doing business in the capital, where all industries and all sectors meet, is unlike doing business anywhere else in the world and we are committed to preparing our graduates to excel in this elite environment. Kogod is accredited by The Association to Advance Collegiate Schools of Business (AACSB). To learn more about the Kogod School of Business, visit kogod.american.edu.