Muhlenberg College Career Center receives professional development suite funding from George I. Alden Trust
The George I. Alden Trust has awarded Muhlenberg college with a $100,000 grant, allowing the Career Center to advance with the development of a new professional development media suite.
By: Victoria Marsala '17 Wednesday, February 22, 2017 09:42 AM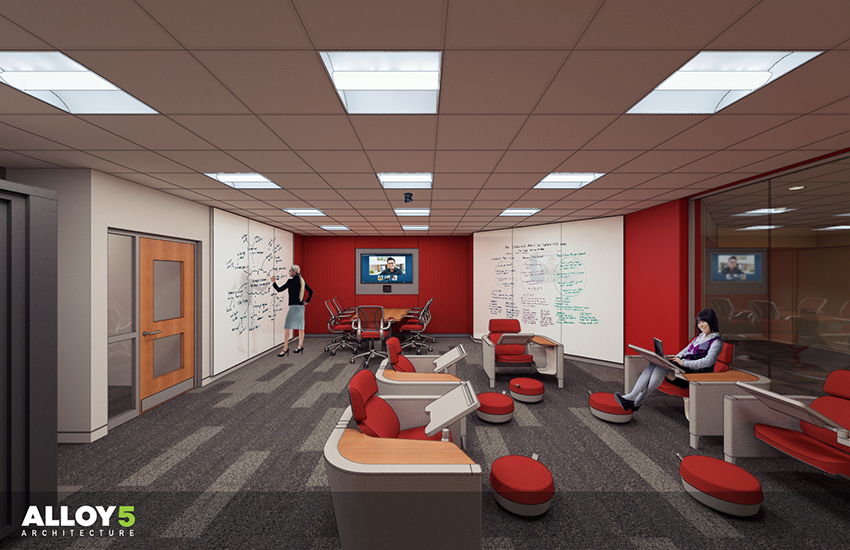 Pictured: Artists' rendering of the upgraded Career Center facilities (courtesy of Alloy5 Architecture)
The funding will be used to upgrade existing facilities and technology to allow for a more flexible work area where students, alumni, faculty, parents and the campus community can access virtual programs.
Muhlenberg places emphasis on providing opportunities to help students achieve post-graduation success and meet their career and life goals. In recent year, the The Career Center has undertaken several initiatives to strengthen student and alumni engagement, including the debut of The Muhlenberg Network, a digital platform where students can search for job and internship opportunities and easily connect with alumni mentors based on their career and research interests. In the first two months of the platform's release, over 600 alumni joined and 380 former Mules were willing to act as formal mentors to students.
The Alden Trust grant will assist with the establishment of virtual support and connections, which complements the Career Center's existing strengths in face-to-face interaction and student consultation. The technology and facilities capital grant will fund interactive high-definition screens, audio equipment and voice-detection video equipment to improve the virtual connections between students and industry professionals, providing students with exposure to a wider variety of mentors.
Muhlenberg's Career Center already has a strong technological foundation. Currently, the Center uses Symplicity, a customer relationship management system that enables staff to track student activity, mentor interactions, internships and job applications. In addition, a recent collaboration with GradLeaders and their Outcomes Survey product will better track recent graduates' first opportunities upon graduating, including information beyond just position and starting salary.
This grant is the most recent of many generous contributions from The George I. Alden Trust. The trust has supported multiple needs and initiatives of Muhlenberg, including a 2012 pledge of $125,000 towards a capital renovation project of the third floor organic chemistry laboratory in Trumbower Hall; a 2008 grant towards the renovation of the Theatre Rehearsal House; and a 2005 grant of $150,000 to assist in construction of the New Science Building.
Founded in 1848, Muhlenberg is a highly selective, private, four-year residential, liberal arts college located in Allentown, Pa., approximately 90 miles west of New York City. With an undergraduate enrollment of approximately 2200 students, Muhlenberg College is dedicated to shaping creative, compassionate, collaborative leaders through rigorous academic programs in the arts, humanities, natural sciences and social sciences as well as selected pre-professional programs, including accounting, business, education and public health. A member of the Centennial Conference, Muhlenberg competes in 22 varsity sports. Muhlenberg is affiliated with the Evangelical Lutheran Church in America.