Muhlenberg College Celebrates 10th Anniversary Gospel Weekend Feb. 17-18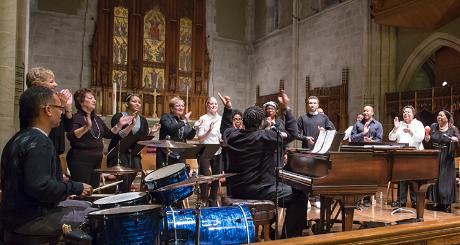 Weekend festivities include a concert, free and open to the public, on Saturday afternoon.
Wednesday, February 1, 2017 11:27 AM
Muhlenberg College will celebrate a decade of gospel tradition and community with its 10th Gospel Workshop Weekend on Feb. 17-18.
The main event of the weekend is the Gospel Choir concert, which will take place in the College's Egner Chapel at 3:30 p.m. on Saturday, Feb. 18. The concert is free and open to the public.
"We're excited to host the 10th Anniversary Gospel Weekend at Muhlenberg College. For the past decade, students, faculty, staff and local community members have been making a joyful noise in Egner Chapel during Gospel Weekend," said Rev. Callista Isabelle, College chaplain. "We hope many will join us for this special 10th anniversary celebration."
The Gospel Weekend concert will be performed under the direction of guest musician Edward "Chief" Menifee, a musician at Morehouse College Chapel in Atlanta. The Gospel Choir is directed by Eric Thompson '10, assistant director of admission at Muhlenberg, who has been involved with the choir since its founding.
Other events being held throughout the weekend include open rehearsals from 4:00-6:00 and 7:30-9:30 p.m. on Friday, and 9:30 a.m.-2:30 p.m. (with a break) on Saturday.
Rejoice, the Muhlenberg College Gospel Choir, is a spirit-filled musical ensemble. Comprised of students from various places, races and creeds, the Gospel Choir is truly reflective of the diverse interests and ethnicities within the Muhlenberg College community.
Founded in 1848, Muhlenberg is a highly selective, private, four-year residential, liberal arts college located in Allentown, Pa., approximately 90 miles west of New York City. With an undergraduate enrollment of approximately 2200 students, Muhlenberg College is dedicated to shaping creative, compassionate, collaborative leaders through rigorous academic programs in the arts, humanities, natural sciences and social sciences as well as selected pre-professional programs, including accounting, business, education and public health. A member of the Centennial Conference, Muhlenberg competes in 22 varsity sports. Muhlenberg is affiliated with the Evangelical Lutheran Church in America.