Muhlenberg College Choir to perform "I Will" concert
Muhlenberg's College Choir, under the direction of Margaret Hanegraaf, visiting professor of music and interim director of choral & vocal activities, and accompanied by Vincent Trovato, will present a concert with the theme of "I Will."
By: Victoria Marsala '17 Friday, April 7, 2017 08:15 AM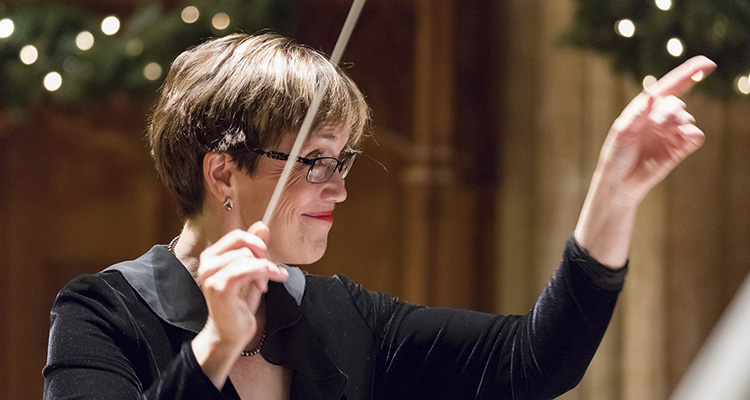 The concert will be held on Sunday, April 9 at 2:00 p.m in Muhlenberg's Egner Memorial Chapel and will be free and open to the public.
"The choir, which is predominantly First Year folks, has grown so much over the semester and year," said Hanegraaf. "Their joy of singing is evident in our work and shines through in the sound. I am so very proud to have had the opportunity to direct this group this year."
The choir developed the theme of their concert throughout the semester, building off of their work, their perspectives on life and the connections they had to music lyrics. Each set of work is framed by statements of intention and words of action, and these intentions will be read at intervals during the program. Audience words and wishes of "I Will" will be incorporated as part of the event.
Musical selections will feature the works: Five Hebrew Love Songs of Eric Whitacre, Northern Lights of Ola Gjeilo, works of Monteverdi, Hans Leo Hassler, Thomas Morley and Z. Randall Stroope.
"Pieces were selected in part to showcase multiple centuries of great choral works," explained Hanegraaf. "I thought it would take the direction of a Spring Concert with attention to light, bright and fun repertoire, but the more we worked, I found that I could add a richness of emotion to the texture of the choir's palette."
Hanegraaf has been teaching voice and Italian and English diction at Muhlenberg College since January 2010. In 2016 as director of opera workshop, she directed and produced a full production of Humperdinck's Hansel and Gretel. She is a native of Minnesota where she studied at the College of St. Benedict, receiving a degree in choral and instrumental education and vocal performance. She holds a masters of music in performance and literature from The Eastman School of Music and attended the University of Minnesota where she received a DMA in vocal performance. She has sung opera, oratorio and music theater throughout the United States, Europe and Bermuda. Prior to her time at Muhlenberg, her collegiate appointments have been at Montana State University, Concordia College, Mansfield University and Lehigh University.
The Muhlenberg music department hosts numerous concerts and events each semester that are free to the community, including student recitals, various ensemble concerts, workshops, a faculty recital and more. Upcoming events include a concert of Hindustani Ragas with Ken Zuckerman, which will take place on April 19 at 8:00 p.m.in Moyer Hall's Miller Forum, and a Big Band Concert on April 21 at 8:00 p.m. in Empie Theatre. For more information on events sponsored by the music department, please visit http://muhlenberg.edu/main/academics/music/concertschedule/.
Founded in 1848, Muhlenberg is a highly selective, private, four-year residential, liberal arts college located in Allentown, Pa., approximately 90 miles west of New York City. With an undergraduate enrollment of approximately 2200 students, Muhlenberg College is dedicated to shaping creative, compassionate, collaborative leaders through rigorous academic programs in the arts, humanities, natural sciences and social sciences as well as selected pre-professional programs, including accounting, business, education and public health. A member of the Centennial Conference, Muhlenberg competes in 22 varsity sports. Muhlenberg is affiliated with the Evangelical Lutheran Church in America.