Muhlenberg College earns top marks on end-of-year rankings for value and Jewish life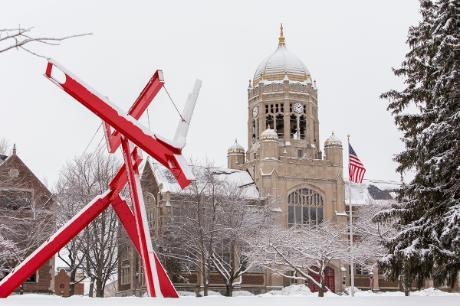 The end of the 2016 calendar year resulted in a flurry of rankings and lists for colleges and universities. Muhlenberg College was recently recognized by a number of sources for both its value and commitment to Jewish life.
Tuesday, January 10, 2017 02:41 PM
When it comes to value, Muhlenberg ranks #53 out of the top 100 U.S. liberal arts colleges according to Kiplinger's Personal Finance Best College Values guide. The ranking was based on factors including selectivity, four-year graduation rate, financial aid and total cost.
Kiplinger's cited Muhlenberg's admit rate of 48%, four-year graduation rate of 83%, average debt at graduation of roughly $30K, and average need based and non-need based aid of approximately $31K and $12K respectively as factors in its ranking.
To come up with the "best values," Kiplinger's starts with data on nearly 1,200 public and private four-year schools provided by Peterson's, then adds original reporting, narrowing the list based on measures of academic quality and financial aid measures. Quality criteria account for 55% of total points, and cost criteria account for 45%.
Kiplinger's offers a combined list of the 300 best values in private liberal arts colleges, private universities and public colleges to show how the top schools in each of the categories compare with the others, and also presents the top 100 private universities, top 100 liberal arts colleges and top 100 public colleges.
Muhlenberg has consistently ranked on Kiplinger's top 100 Best Value Liberal Arts Colleges list in previous years.
The College has also been recognized recently by BestValueSchools.com as the #9 Best Value Small College with a Jewish Studies Degree and #25 Best Value Small College for Political Science and International Relations Degrees for 2016-2017.
For the Jewish studies ranking, each of the recognized schools has at least one full program for students seeking a bachelor's degree in Jewish studies or a related area. In addition, they each maintain an overall undergraduate graduation rate of at least 85%.
For the political science and international relations ranking, each of the recognized schools has a minimum of two relevant programs for students seeking a bachelor's degree in political science, international relations, or a related area. In addition, they each maintain an overall undergraduate graduation rate of at least 50%.
The schools on both of the BestValueSchools.com lists also have to demonstrate a genuine commitment to affordable education.
The recognition for Jewish life came from Hillel International's latest Official Hillel Guide to Jewish Life on Campus (Fall 2016). In the guide, Muhlenberg is #36 on the list of Top 60 Private Schools Jews Choose and #17 in Top 60 Schools Jews Choose.
The Top 60 Private Schools Jews Choose ranking referenced the presence of a campus Hillel organization, number of Jewish students and percentage of Jewish students. Top 60 Schools Jews Choose list focuses heavily on Jewish undergraduate percentage.
Founded in 1848, Muhlenberg is a highly selective, private, four-year residential, liberal arts college located in Allentown, Pa., approximately 90 miles west of New York City. With an undergraduate enrollment of approximately 2200 students, Muhlenberg College is dedicated to shaping creative, compassionate, collaborative leaders through rigorous academic programs in the arts, humanities, natural sciences and social sciences as well as selected pre-professional programs, including accounting, business, education and public health. A member of the Centennial Conference, Muhlenberg competes in 22 varsity sports. Muhlenberg is affiliated with the Evangelical Lutheran Church in America.