Muhlenberg College Hillel provides a home and inspiration for Alex Brizel '17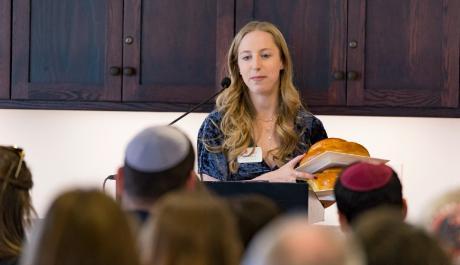 Recent grad to serve as the inaugural Springboard Innovation Fellow at Hofstra Hillel.
Wednesday, July 26, 2017 04:16 PM
If not for her experiences at Muhlenberg College Hillel and the interactions she had with fellow students and staff there, it's safe to say that Alex Brizel's view of the future would look pretty different.
As it is, the 2017 grad is setting off to start her career in Jewish communal leadership as the inaugural Springboard Innovation Fellow at Hofstra Hillel.
While her passion for Jewish life has roots in pre-Muhlenberg experiences at Jewish day school, Jewish summer camp and a gap year in Israel, that passion blossomed right here on Chew Street—at Muhlenberg College Hillel.
"Having a vibrant Jewish life on college campuses everywhere is really important to me—that's why I wanted to do this fellowship," said Brizel, a Judaic studies and dance major. "Muhlenberg Hillel gave me mentors. The students and staff there believed in me and gave me an idea of what I can do for young Jewish people."
That's not to say that her experiences on campus weren't without a few bumps. Muhlenberg Hillel was in a period of leadership transition during Brizel's first year on campus, and while she got involved as a freshman, the community wasn't as vibrant as she knew it could be.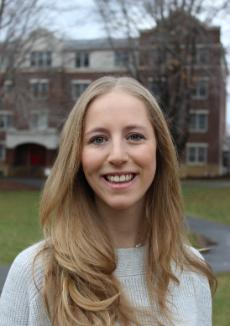 "By the time I was a sophomore, some of my classmates and I were inspired to build up Hillel to its full potential. We got involved and helped create the Hillel we wanted to exist," recalled Brizel. "The intensive experience I had during my gap year in Israel was a big inspiration for me. That was the type of community I was seeking."
By the spring of her sophomore year, Brizel sat on Hillel's executive board. A main focus for her was providing first-year students with a vibrant Jewish community and support from moment one on campus, and maintaining their connection to that community throughout four years on campus.
As a senior, Brizel continued her involvement with Hillel in a new role, as presidential assistant (PA). She says that she was excited for the opportunity to give back to an organization that had given her so much over the previous three years.
"Joining the Hillel staff as the presidential assistant was really special. It gave me the opportunity to serve a community that I was already so passionate about," Brizel said. "During my senior year, I realized that I really enjoyed being a Jewish professional."
As the PA, Brizel worked closely with Muhlenberg Hillel staff to envision new ways to approach programming.
"Alex is an incredible student and colleague. During her time on campus as a student leader she demonstrated her dedication to Jewish life at Muhlenberg and as the presidential assistant for Hillel, she was a key member of our Hillel staff team," recalled Rabbi Melissa B. Simon, former Jewish chaplain and director of Muhlenberg College Hillel. "Alex helped transform Jewish life on campus through her work with the inaugural year of the campus engagement interns. I was thrilled when Alex shared with me that she was applying for Hillel jobs. I know she will flourish, and look forward to watching her grow as a professional and as a colleague."
Brizel will now take her inventive thinking to another institution's Hillel as the inaugural Springboard Innovation Fellow at Hofstra.
Hillel International's Springboard Fellowship is a paid full-time fellowship that brings 25 recent college graduates with a passion for Jewish life and skills in either innovation or social justice to college campuses across North America. Through this fellowship, they'll further develop their talents and use them to engage students in Jewish life.
The two-year commitment involves a lot of professional development with other Jewish professionals around the world, as well as the opportunity for Brizel to influence the next generation of young Jewish leaders.
While she may not know exactly what will come next after her two years at Hofstra, it's obvious that Brizel will approach her next career step with the same innovative thinking and passion for community that she brought to Muhlenberg.
Founded in 1848, Muhlenberg is a highly selective, private, four-year residential, liberal arts college located in Allentown, Pa., approximately 90 miles west of New York City. With an undergraduate enrollment of approximately 2200 students, Muhlenberg College is dedicated to shaping creative, compassionate, collaborative leaders through rigorous academic programs in the arts, humanities, natural sciences and social sciences as well as selected pre-professional programs, including accounting, business, education and public health. A member of the Centennial Conference, Muhlenberg competes in 22 varsity sports. Muhlenberg is affiliated with the Evangelical Lutheran Church in America.