Muhlenberg College names Kathy Harring, Ph.D. as Provost and Vice President of Academic Affairs
After a nationwide search, Muhlenberg College has named Dr. Kathy Harring as its next provost and vice president of academic affairs.
Friday, April 21, 2017 03:31 PM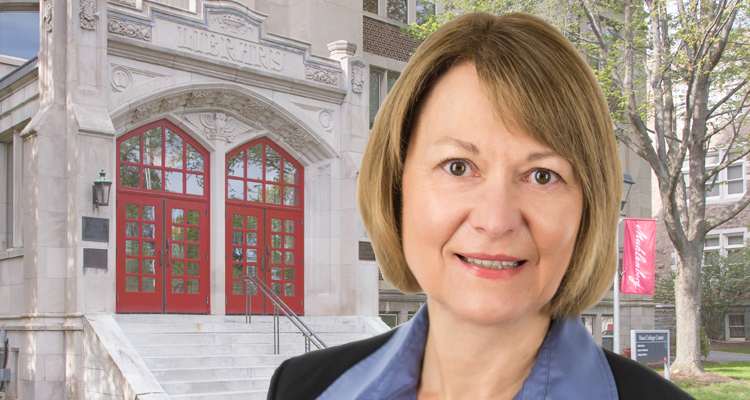 Harring has served Muhlenberg in leadership roles as interim provost and vice president and dean of institutional effectiveness and planning since July 2016, as dean of institutional assessment and academic planning since September 2013 and as a member of Muhlenberg's psychology department since 1984.
As provost, Harring oversees curriculum and instruction and manages all fiscal and personnel aspects of the academic program, which includes all academic departments, the Martin Art Gallery, the Center for Ethics, the Muhlenberg Polling Institute, the Institute for Jewish-Christian Understanding and the Wescoe School of Continuing Education. She supervises the provost senior staff, which includes the dean of academic life, dean of global education, dean of the Wescoe School of Continuing Education, associate dean of digital learning, associate dean for diversity initiatives, director of Trexler Library and the registrar.
"I am delighted to announce that, after an extensive national search that assessed over 1,000 potential candidates, we have found our provost right here at home," said John I. Williams, Jr., President of Muhlenberg College. "Kathy Harring exhibits scholarship, administrative leadership experience, pedagogy, institutional citizenship and campus and national reputation that will serve Muhlenberg College well as she steps into her role as our next chief academic officer."
Harring earned her B.A. in psychology from Franklin and Marshall College and her M.A. and Ph.D. in social psychology with a minor in quantitative psychology from the University of North Carolina at Chapel Hill. She joined Muhlenberg in 1984. In her time at the College, she has been a member of the psychology department faculty, department chair, founding member of the College's Faculty Center for Teaching, vice president and dean of institutional effectiveness & planning and a vital contributor to countless committees and initiatives at Muhlenberg.
She has been honored with the Lindback Award for Distinguished Teaching and the Paul C. Empie Memorial Award for Teaching and Service. In 2012, she was elected as an American Council on Education Fellow—a selective program that has historically involved some of the most talented individuals in higher education.
Harring frequently speaks at national and international higher education conferences on innovative pedagogies, general education reform and faculty leadership development, and she regularly serves as a member of accreditation visiting teams. She has led accreditation activities, overseen student learning, and been the architect of internal assessment systems at Muhlenberg.
Founded in 1848, Muhlenberg is a highly selective, private, four-year residential, liberal arts college located in Allentown, Pa., approximately 90 miles west of New York City. With an undergraduate enrollment of approximately 2200 students, Muhlenberg College is dedicated to shaping creative, compassionate, collaborative leaders through rigorous academic programs in the arts, humanities, natural sciences and social sciences as well as selected pre-professional programs, including accounting, business, education and public health. A member of the Centennial Conference, Muhlenberg competes in 22 varsity sports. Muhlenberg is affiliated with the Evangelical Lutheran Church in America.