Muhlenberg College names Robert Springall as Vice President for Enrollment Management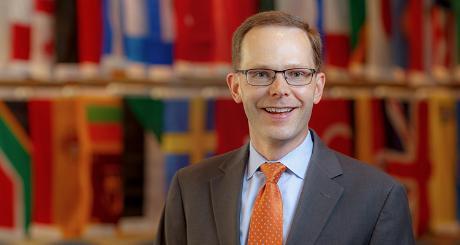 Springall currently serves as the dean of admissions at Bucknell University in Lewisburg, Pa.
Wednesday, May 17, 2017 09:14 AM
"We are extremely pleased to have Rob joining our team," says Muhlenberg College President John I. Williams, Jr. "He was the overwhelming choice of the selection committee, and he impressed all of the students, faculty and staff with whom he met during his time on campus. It's an exciting time for Muhlenberg, and Rob is the right person to lead the ongoing upward trajectory in our student recruiting and retention programs going forward."
Springall, who begins his duties July 1, will oversee all aspects of admissions, financial aid and student retention. He earned his bachelor of science degree in computer science at Rochester Institute of Technology. He earned his master's degree in higher education from the University of South Carolina.
Springall is a seasoned veteran in enrollment management and a leader in the field. Prior to becoming dean of admissions at Bucknell in 2009, Springall worked in admissions at RIT, the University of Vermont, Cornell and the University of Central Florida. Since 2014, Springall has been a member of the Board of Directors for The Common Application, a national, non-profit member organization promoting equitable application practices and college access. He currently serves as chair-elect and secretary on the board's executive committee.
Springall is widely regarded as a thought-leader in the field, has led many workshops on enrollment management and admissions and has been quoted in numerous national publications. In his current role, he oversees a staff of 23 full-time and seven part-time professionals.
Upon his appointment, Springall said, "I am very grateful to President Williams and the campus community for allowing me to join them at this exciting time in Muhlenberg's history. My strong impression of the college was intensified during my visit to campus. I look forward to working with the talented people on the admissions and financial aid team and my new colleagues across campus."
Robert and his wife, Karen, are looking forward to relocating to Allentown this summer.
In his announcement to the Muhlenberg community regarding Springall's appointment, Williams thanked the search committee, which included faculty, staff and students.
Founded in 1848, Muhlenberg is a highly selective, private, four-year residential, liberal arts college located in Allentown, Pa., approximately 90 miles west of New York City. With an undergraduate enrollment of approximately 2200 students, Muhlenberg College is dedicated to shaping creative, compassionate, collaborative leaders through rigorous academic programs in the arts, humanities, natural sciences and social sciences as well as selected pre-professional programs, including accounting, business, education and public health. A member of the Centennial Conference, Muhlenberg competes in 22 varsity sports. Muhlenberg is affiliated with the Evangelical Lutheran Church in America.