Muhlenberg featured as a 2017 Princeton Review College That Pays You Back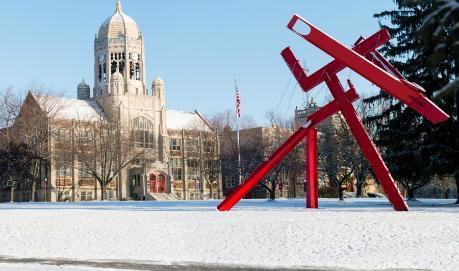 Muhlenberg College is one of the nation's best colleges for students seeking a superb education with great career preparation and an affordable price, according to The Princeton Review.
Thursday, February 2, 2017 03:31 PM
Muhlenberg was featured in the 2017 edition of The Princeton Review's "Colleges That Pay You Back: The 200 Schools That Give You the Best Bang for Your Tuition Buck." School profiles for this book and its ranking lists are available on the Princeton Review website.
In Muhlenberg's profile, Princeton Review editors call the College "an excellent place to go if you're serious about academics, and you want to try a lot of different things throughout your undergraduate career." Editors added that Muhlenberg professors "are willing to help and listen, which significantly [increases] the learning experience." The "highly accepting and friendly" environment and the ease of access to professors "is extremely encouraging" and students find that "[they] work harder" because of it.
The Princeton Review also lauded Muhlenberg's career preparation for students, especially online resources such as the catalogue of current internship opportunities and internship manual. Student research opportunities, particularly in the sciences, and the College's "generous" financial aid packages were also called out.
According to The Princeton Review, students agree that "there is such a wide variety of talented students here at Muhlenberg," and with roughly 100 registered student organizations on campus, if "students want to try something new (clubs, etc.), they're welcome to. At Muhlenberg, the sky is the limit."
The profile also notes that according to PayScale.com, 42% of graduates describe their careers as helping to improve society. Graduates note that Muhlenberg's strong academics, combined with opportunities and support for career resources and internships, leave them well-prepared to enter any field.
The Princeton Review chose the schools based on ROI (return on investment) ratings it tallied for 650 schools last year. The ratings weighted 40 data points that covered everything from academics, cost and financial aid to graduation rates, student debt and alumni salaries and job satisfaction. The Princeton Review editors culled data from the company's surveys of administrators and students in 2015-16 and from PayScale.com's surveys of school alumni conducted through April 2016.
"We highly recommend Muhlenberg College, and all of our Colleges That Pay You Back schools. They stand out not only for their outstanding academics but also for their affordability via comparatively low sticker prices and /or generous financial aid to students with need – or both," said Robert Franek, The Princeton Review's Senior VP/Publisher and lead author of the book. "Students at these colleges also have access to extraordinary career services programs from their freshman year on, plus a lifetime of alumni connections and post-grad support."
At the end of 2016, Muhlenberg was also recognized for its value when Kiplinger's Personal Finance ranked Muhlenberg #53 out of 100 U.S. liberal arts colleges in its Best College Values guide. The ranking was based on factors including selectivity, four-year graduation rate, financial aid and total cost. Earlier in 2016, The Princeton Review featured the College in the 2017 edition of its flagship college guide, "The Best 381 Colleges," with Muhlenberg being named the #1 College theatre program and #16 in "Best Campus Food."
The Princeton Review is a leading tutoring, test prep and college admission services company. Every year, it helps millions of college- and graduate school-bound students achieve their education and career goals through online and in person courses delivered by a network of more than 4,000 teachers and tutors, online resources and its more than 150 print and digital books published by Penguin Random House. The Princeton Review is headquartered in New York, N.Y., and is an operating business of Match Group.
Founded in 1848, Muhlenberg is a highly selective, private, four-year residential, liberal arts college located in Allentown, Pa., approximately 90 miles west of New York City. With an undergraduate enrollment of approximately 2200 students, Muhlenberg College is dedicated to shaping creative, compassionate, collaborative leaders through rigorous academic programs in the arts, humanities, natural sciences and social sciences as well as selected pre-professional programs, including accounting, business, education and public health. A member of the Centennial Conference, Muhlenberg competes in 22 varsity sports. Muhlenberg is affiliated with the Evangelical Lutheran Church in America.