Muhlenberg partners with Ursinus and Gettysburg to Grow the Digital Humanities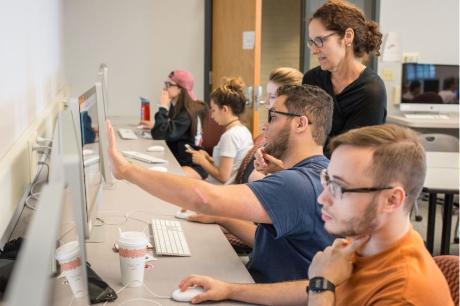 Mini-conference for faculty, students and staff creates digital humanities initiatives throughout their curricula.
Tuesday, June 20, 2017 11:02 AM
Building on the growing interest in the digital humanities, Muhlenberg is partnering with Ursinus College and Gettysburg College on a project to grow the digital humanities on all three campuses. The project—and accompanying June 20-21 mini-conference hosted by Ursinus—is supported by $17,000 from the Pennsylvania Consortium for the Liberal Arts (PCLA) as part of a $250,000 grant it received from the Arthur Vining Davis Foundations.
The funding aims to enrich consortial efforts in faculty development, blended/digital learning and interfaith initiatives.
Muhlenberg's Lora Taub-Pervizpour, professor of media & communication and associate dean for digital learning, is partnering with Ursinus' Meredith Goldsmith, professor of English and assistant to the president for strategic initiatives, and Kara McShane, assistant professor of English, as well as Gettysburg's Robin Wagner, dean of the library.
"The digital humanities is a rapidly growing field, and this conference offers a forum for creativity, professional development for students and support for faculty and staff to experiment with the use of digital tools to enhance teaching and student engagement," says Goldsmith.
"The workshop will give us access to training opportunities that we wouldn't otherwise have, which of course is what makes membership in this consortium so positive for those of us that serve at smaller schools," Wagner adds. "We can do more and do better things together, by pooling our human and financial resources—far more than we could do alone."
Digital projects have already taken shape on the three campuses.
At Muhlenberg, eight digital learning assistants provide peer support for students working on digital projects and facilitate in-class workshops with faculty partners. Recognized for innovation and excellence in digital peer learning with the OLC Innovate Solution Design Summit 2016 award, Muhlenberg's Digital Learning Assistant program provides peer assistance on an expanding array of digital platforms, tools, and practices.
"Our success with digital learning and scholarship, and our ability to help students, faculty and staff develop a meaningful digital presence, is rooted in a model that prioritizes and values students as peer leaders and mentors," Taub-Pervizpour says.
At Ursinus, students are writing the history of the nearly 150-year-old institution through Bears Make History, which brings the college's written and oral past online. A growing number of faculty are now integrating digital assignments into their courses.
Last year, the librarians at Gettysburg College launched a digital scholarship program with three undergraduate fellows who spent the summer learning digital tools and creating digital projects based on the college's Special Collections and Archives. This summer, the program expands to six fellows. Fellows are introduced to a wide range of topics ranging from picking the right digital tools to examining the user experience and writing for the web during the 10 week curriculum. The intention is to "trickle up" and have these summer fellows assist faculty throughout the year in introducing digital assignments into their courses.
The mini-conference will help the three institutions develop a concrete plan to help the institutions enhance digital components in the classroom, develop new programs, hire students as digital fellows and explore new ways for collaboration.
Founded in 1848, Muhlenberg is a highly selective, private, four-year residential, liberal arts college located in Allentown, Pa., approximately 90 miles west of New York City. With an undergraduate enrollment of approximately 2200 students, Muhlenberg College is dedicated to shaping creative, compassionate, collaborative leaders through rigorous academic programs in the arts, humanities, natural sciences and social sciences as well as selected pre-professional programs, including accounting, business, education and public health. A member of the Centennial Conference, Muhlenberg competes in 22 varsity sports. Muhlenberg is affiliated with the Evangelical Lutheran Church in America.