Muhlenberg and Royal Conservatoire of Scotland Unveil Exciting New Partnership
Muhlenberg College and Scotland's national conservatoire today announced an exciting new partnership, which will enable Muhlenberg's top students to experience Scotland's distinctive and world-leading performing arts education through a new transatlantic study program.
Monday, June 12, 2017 04:18 PM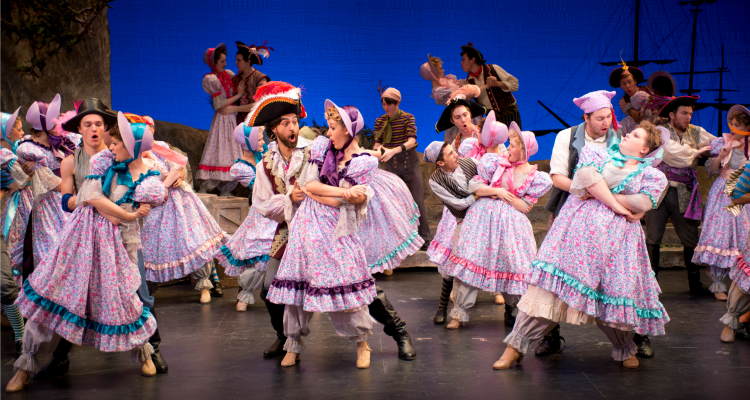 The Royal Conservatoire of Scotland (RCS)—ranked in the top three of the prestigious QS global university rankings for performing arts—is joining forces with Muhlenberg—offering the leading undergraduate theatre program in the U.S. The partnership will enable high-performing American students to experience arts education in one of the world's most successful multi-arts learning and teaching environments.
The partnership, the first of its kind for RCS, will see up to 8-10 Muhlenberg students go through a rigorous application process each year who, once accepted, will join Modern Ballet, Production and Technology Management, Contemporary Performance Practice, Production Art and Design and Music students at the RCS's award-winning campus in the centre of Glasgow for one or two academic terms.
Professor Jeffrey Sharkey, Principal of the Royal Conservatoire of Scotland, said, "We're delighted to be working with Muhlenberg College to develop exciting new opportunities which will enrich both the learning experience of individual students and our cultural communities.
"It's essential that emerging artists and performers are outward-looking, engaged and open to new experiences and opportunities for collaboration and we look forward to broadening and deepening our arts community, its impact and reach through special partnerships like this.
"We are excited at the potential this creates for new academic and student collaboration and look forward to welcoming our first Muhlenberg College students to Glasgow in the new academic year to study, learn and immerse themselves in all that Glasgow, Scotland and her national conservatoire have to offer."
This year Muhlenberg has been named as the top U.S. undergraduate college theatre program for the second time by The Princeton Review.
John I. Williams, Jr., President of Muhlenberg College, said, "Muhlenberg College is committed to providing our students with world-class opportunities that lead to powerful outcomes. This partnership with the Royal Conservatoire of Scotland offers our students the opportunity to receive world-class conservatory training that complements Muhlenberg's own top-rated programs in Theatre, Dance, and Music. Both institutions share a common and unwavering commitment to excellence and to close collaboration between instructor and student. We know our performing arts students will be thrilled to have the opportunity to build upon what they're learning at Muhlenberg by studying at RCS while living in the heart of culturally-rich Glasgow."
The Royal Conservatoire of Scotland is a national and international centre of excellence for performing arts education. Celebrating its 170th anniversary in 2017, the RCS is now one of the world's leading multi-disciplinary conservatoires offering specialised pre-professional intensive teaching in music, drama, dance, film and production, as well as encouraging trans-disciplinary learning across its innovative curriculum.
Ranked in the world top three performing arts learning and teaching institutions, Scotland's national conservatoire is internationally recognised for its ground-breaking work in advancing the performing arts and artists for the next generation.
Founded in 1848, Muhlenberg is a highly selective, private, four-year residential, liberal arts college located in Allentown, Pa., approximately 90 miles west of New York City. With an undergraduate enrollment of approximately 2200 students, Muhlenberg College is dedicated to shaping creative, compassionate, collaborative leaders through rigorous academic programs in the arts, humanities, natural sciences and social sciences as well as selected pre-professional programs, including accounting, business, education and public health. A member of the Centennial Conference, Muhlenberg competes in 22 varsity sports. Muhlenberg is affiliated with the Evangelical Lutheran Church in America.