Three-peat! Women's basketball is Centennial Conference champion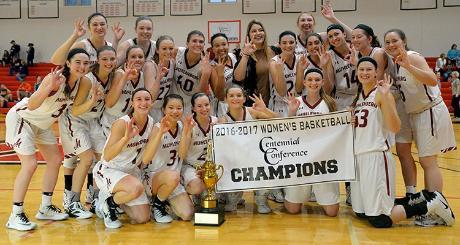 Muhlenberg women's basketball set a historical benchmark by winning the team's third straight and 10th overall Centennial Conference championship.
Monday, February 27, 2017 00:22 PM
In defeating Gettysburg 74-61, Muhlenberg became the first school in CC women's basketball history to ever "three-peat" while also extending its already conference-record total number of CC titles. Muhlenberg has now won eight of its last nine CC championship game appearances as well.

The Mules (20-7) came back from a first-period deficit, outscoring the Bullets 20-9 in the second period to enter halftime with a five-point lead. Muhlenberg extended its advantage in the third period and held off a final Bullets (20-8) push in the fourth period to seal the victory.

Muhlenberg earned the conference's automatic bid into the NCAA Tournament with the victory and awaits announcement Monday on its opponent and destination for its first-round game.
This article is an excerpt and was originally published on MuhlenbergSports.com, the official source for Muhlenberg Athletics news.