Threes & D Lock Up Two Seed for Women's Basketball
Despite a delayed start due to travel issues, the Muhlenberg women's basketball team did not seem fazed in defeating McDaniel 78-50 and securing the second seed for the Centennial Conference Tournament.
Wednesday, February 22, 2017 09:56 AM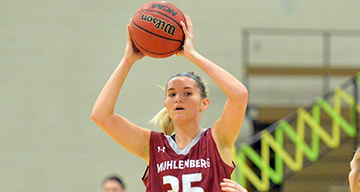 The Mules (18-7, 15-5 CC) shot a season-best 10-17 from three-point range (58.8 percent) while holding the Green Terror (11-14, 9-11 CC) to a 31.7 percent clip (19-60) and 0-for-6 day from long range. Muhlenberg spread the ball on offense, dishing out 20 assists as a team for the seventh time this season. Fourteen different Mules scored in the game and they forced 13 turnovers as a team on defense.

With the win, Muhlenberg clinched the second seed for next weekend's Centennial Conference playoffs, winning a tiebreaker with Dickinson who also finished 15-5 in league play after its win over Washington College. Haverford had already clinched the first seed and will host Friday's two semifinal contests as well as the championship game Saturday.
This article is an excerpt and was originally published on MuhlenbergSports.com, the official source for Muhlenberg Athletics news.