When "Muhlenberg Gives," We Don't Hold Back
The "Muhlenberg Gives" event, part of the #DigInForDuke campaign, resulted in 377 new marrow-registry signups and approximately 59 blood donations.
By: Meghan Kita Wednesday, September 6, 2017 03:10 PM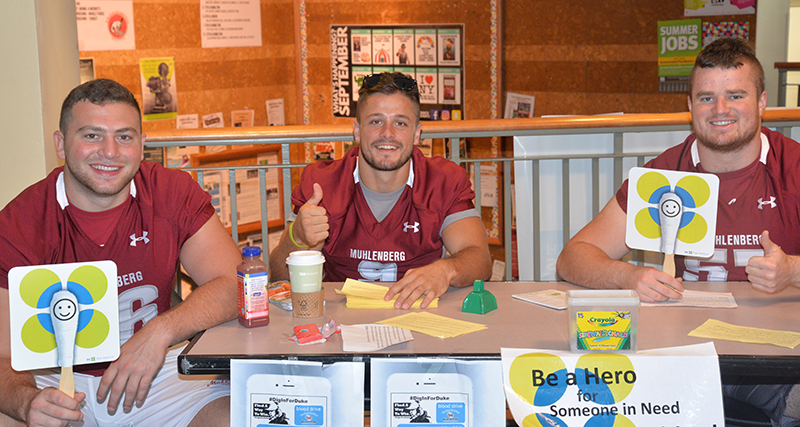 On Friday, September 1, Muhlenberg football players suited up and headed not for Marino Field, but for Seegers Union. They waited outside, manned a table just inside the entrance and camped out in the hallway that leads to the Wood Dining Commons. You couldn't miss them, and they weren't about to miss you, either: "Do you know what's going on here today?" "Let me tell you about joining the marrow registry." "Are you signed up to give blood?"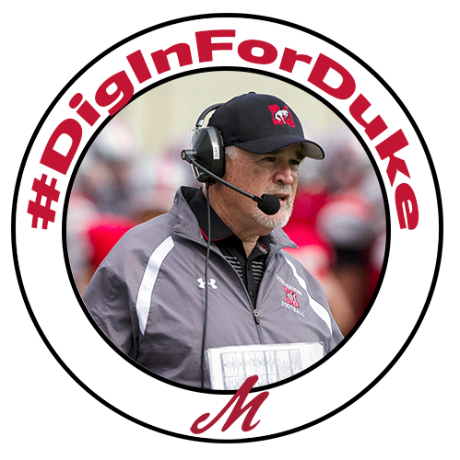 The Mules came out in force to support Muhlenberg Gives, a drive for marrow-registry signups and blood donations. The effort was part of the larger #DigInForDuke campaign, which began in response to head football coach Mike "Duke" Donnelly's cancer diagnosis this spring. To treat his acute monocytic leukemia, Donnelly needed a bone marrow transplant, which he will receive early this month. He wanted to spread the word about the importance of the marrow registry and different types of blood donation (including platelets, the component of blood that helps prevent bleeding). So, Muhlenberg partnered with Be the Match, the Andy Talley Bone Marrow Foundation and the Miller-Keystone Blood Center to put on Friday's event.
Around 1:30 p.m., the Great Room in Seegers buzzed with activity as members of the Muhlenberg community got their mouths swabbed to join the marrow registry—and even that was a slowdown from when the drive opened around noon, when a line of students, faculty and staff eager to participate spilled into the hallway. Just around the corner, in Seegers 111, nearly every blood-donation chair had an occupant. The event resulted in 377 marrow-registry signups and 59 blood donations; blood donations alone have the potential to save 177 lives.
Zoe Peck '18, who's majoring in biology and minoring in business, knows firsthand the importance of events like this one. When her older brother was 2 years old, he received a life-saving bone-marrow transplant. His donor was a woman who had joined the registry while she was employed at Dartmouth College during a drive the school held in the wake of a professor's cancer diagnosis. The donor spent a few months on the registry before being called as a near-perfect match for Zoe's brother, who's now 27.
"I made all my friends go and sign up," Zoe says. "There are a lot of misconceptions about it—it's not a bone-marrow drive; it's a cheek swab. The chances of you matching with someone are so small, and if you do, it's a small procedure. I hope I can have that honor. You're saving someone's life."
Hayley Peterson '18, a history major and a softball player, has been donating platelets every eight days since her grandfather died earlier this year. He had myelodysplastic syndrome (MDS), also known as preleukemia, and received platelets from 50 different donors over the course of his year-long illness.
Platelets regenerate more quickly than whole blood, so she's able to donate frequently. When she's at Muhlenberg, she goes to the Miller-Keystone Blood Center in Allentown, where they have the equipment required to separate platelets from the rest of the blood.
Hayley, who knows Coach Donnelly from the three years she spent working in the athletics office, says she hopes the students who know him (or know of him) are moved to join the bone-marrow registry or to donate full blood or platelets.
"When it hits closer to home, you start to realize the impact you can make by donating," Hayley says. "It's so great that Coach is using his situation in such a positive way, to get people to rally behind him and raise awareness."