Women's Lacrosse Moves into First-Place Tie
Two players reached career milestones as the Muhlenberg women's lacrosse team won at Swarthmore, 13-7, to move into a tie for first place in the Centennial Conference.
Thursday, April 20, 2017 08:16 AM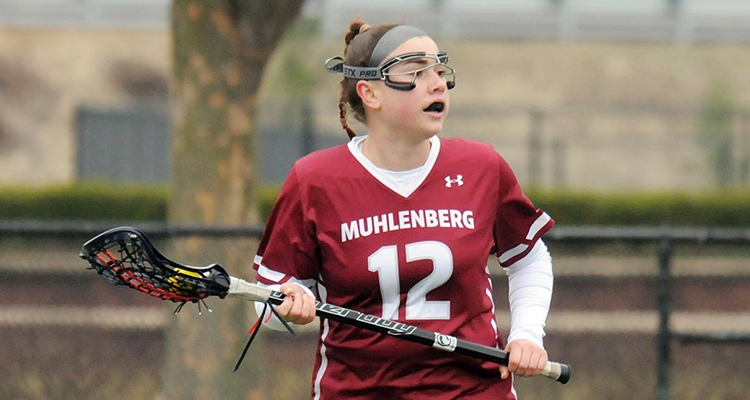 The Mules (11-2, 5-1), who won their third straight, are in a four-way tie with Gettysburg, Dickinson and Franklin & Marshall at the top of the standings with three games remaining in the regular season. They have a challenging finish, with home games against Dickinson and Ursinus (4-2) followed by a trip to F&M.

Senior Kelsey Nagle recorded a goal and three assists to surpass 200 career points. The seventh player in team history to score 200 points, Nagle (pictured above) ended the night with 203. She also became the first Muhlenberg player with three seasons of 40 or more assists.

Junior Jordy Bonvini scored four goals to put her career total at an even 100. She is the 14th Mule to reach the century mark.

Seniors Stephanie D'Ascoli and Nora Fisher and sophomore Amanda Tullo scored two goals apiece, helping Muhlenberg reach 11 wins for the third time in program history. The Mules set a school record with 13 wins last spring.
This article was originally published on MuhlenbergSports.com, the source for all Muhlenberg athletics news.