Wrestling: Two Place Fourth at Citrus Open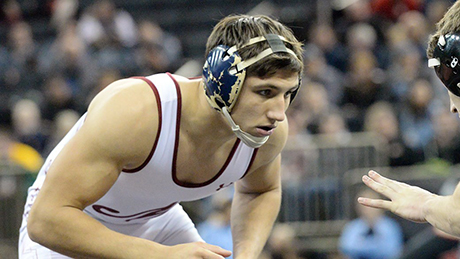 Steven Rice and Gennaro Cerminara placed fourth in their respective weight classes at the Citrus Open in Fort Lauderdale, Fla.
Wednesday, January 4, 2017 04:14 PM
Rice (pictured above) placed for the second time in as many tournaments as a Mule; he came in eighth at Messiah earlier in the month. After getting pinned by the top seed at 184, Rice posted an 11-7 decision against a John Carroll wrestler to advance to the consolation final, where he was decisioned by the third seed.
At 197, Cerminara reached the consolation final by adding two pins - one in just 51 seconds and the other against the third seed - to one he recorded on the first day of the tournament. He went 4-2 at the tournament to run his season record to 16-8, with nine of his wins coming by fall.
Freshman Austin Sherman placed seventh at 133, closing out his tournament with a pin of the sixth seed. Junior Ben Peck recorded his second pin of the tournament in the 149-pound ninth-place bracket.
This article was originally published on MuhlenbergSports.com. Complete brackets and team scores are available in the original story.