Zeta Beta Tau reinstated and welcomed back to Muhlenberg's campus
After more than 20 years without an official campus presence, the 33 brothers of Zeta Beta Tau (ZBT) actualized the re-chartering of their fraternity at Muhlenberg College.
By: Victoria Marsala '17 Tuesday, March 28, 2017 10:34 AM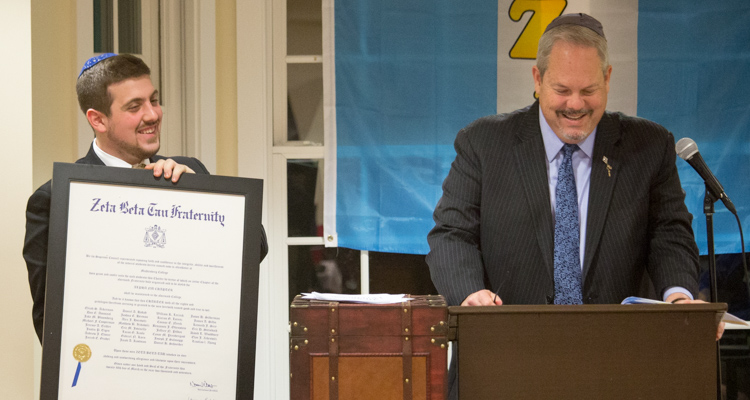 ‌
Pictured: Joe Salmaggi, Muhlenberg ZBT chapter president & Norman M. Waas, ZBT international president
The re-chartering ceremony took place on March 25 in the Leffell Center for Jewish Student Life.
"We are proud of the hard work the men of ZBT have put into rebuilding their organization to be one that Muhlenberg can be proud of," said Allison Gulati, vice president of student affairs and dean of students at Muhlenberg College.
ZBT was first founded in 1898 as the world's first Jewish fraternity and made its way to Muhlenberg's campus by 1932, only to lose its charter in 1995. However, in the fall semester of 2015, a group of Muhlenberg students came together to recolonize the chapter.
"We are very excited to charter after such a short time being back on campus...this was a team effort and it will not be forgotten in our chapter as long as we last," said Joe Salmaggi '18, Muhlenberg College ZBT president, speaking on the weekend's ceremony. "It was very humbling to have such special guests from nationals come out to celebrate with us."
"Zeta Beta Tau has been a great asset to the fraternity and sorority community at Muhlenberg College," said Tara Leigh Sands, interim director of Greek life and student leadership programs at Muhlenberg College. "They have spent considerable time actively engaging in philanthropy while rebuilding their chapter, as well as starting conversations around critical issues within the larger fraternal community and the role that Muhlenberg's fraternity life plays. The Fraternity and Sorority community is excited to continue to work with Zeta Beta Tau for the future years."
Muhlenberg's ZBT Board is as follows:
President – Joe Salmaggi
Internal Vice President – Daniel Hadad
External Vice President – Elan Zebrowitz
Brotherhood Development Director – Michael Cooperman
Recruitment Chair – Jason Silberman
Secretary – Conor Prendergast
Treasurer – Andrew Elsner
ZBT has over 130,000 members initiated and was the first fraternity to do away with pledging.
The fraternity "prides itself on being an inclusive organization welcoming of any college man who understands and appreciates our Mission."
At Muhlenberg, students interested in joining Greek life must meet certain academic and behavioral standards in order to join and will undergo recruitment and education programs. Members of Muhlenberg's Greek organizations are actively involved campus-wide, with 70% acting as members of other clubs and organizations and 30% holding leadership and mentoring positions, including student government, tour guides and tutors. Academic achievement is important to Muhlenberg's Greek chapters and the cumulative grade-point-averages of their members regularly rank among the highest nationally in their organizations. Community service work is another important facet of Greek life, with members from Muhlenberg's organizations contributing over 40,000 hours and $70,000 in the last four years alone.
Founded in 1848, Muhlenberg is a highly selective, private, four-year residential, liberal arts college located in Allentown, Pa., approximately 90 miles west of New York City. With an undergraduate enrollment of approximately 2200 students, Muhlenberg College is dedicated to shaping creative, compassionate, collaborative leaders through rigorous academic programs in the arts, humanities, natural sciences and social sciences as well as selected pre-professional programs, including accounting, business, education and public health. A member of the Centennial Conference, Muhlenberg competes in 22 varsity sports. Muhlenberg is affiliated with the Evangelical Lutheran Church in America.