A Global Education, Abroad and at Home
Two semesters off campus—one in France and one in D.C.—nurtured this young alumna's passion for the French language.
By: Meghan Kita, reporting by Shelley Drozd Thursday, June 21, 2018 08:47 AM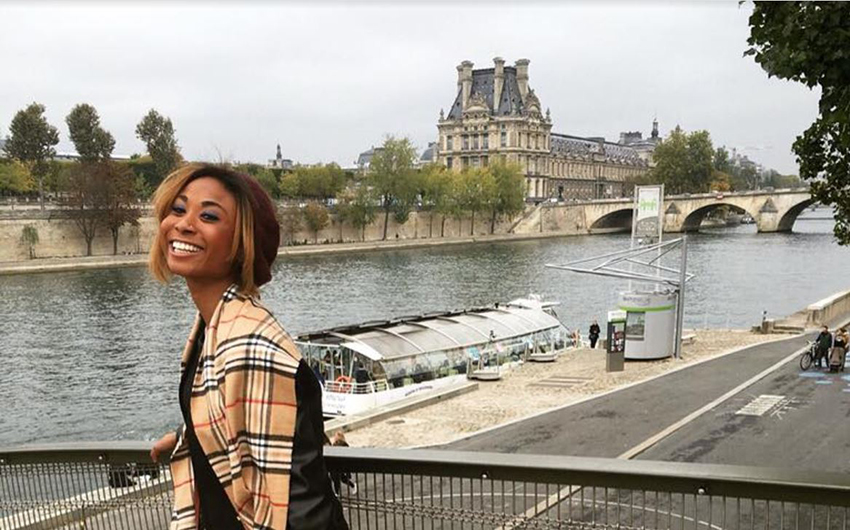 Kaci Gregory '18 poses in front of the Seine during her semester in France. Photos courtesy Kaci Gregory.
When Kaci Gregory '18 was a senior in high school, she was studying three (!) different languages: French, Spanish and Italian.
"I always loved languages," Gregory says. "But when I took all three at once, sometimes it could be a little complicated. I'd walk into Spanish class saying 'bonjour' because I would have both classes on the same day."
When she moved on to college, she narrowed her focus to the one she'd stuck with the longest: French. What attracted the French & francophone studies and media & communication double major to Muhlenberg was its academic rigor, she says, as well as its athletics program—she was recruited as a middle-distance track runner. However, the fact that more than 50 percent of Muhlenberg students study abroad during their four years was a nice bonus.
"I told my parents early on in high school that I was going abroad in college," she says. "And the more I learned about the program at Muhlenberg, the more interesting it seemed to me."
It was so interesting to Gregory that she ended up doing two semesters away from campus through the office of global education: one in France, during the fall semester of her junior year, and one in Washington, D.C., a year later.
At the Institute for American Universities (IAU) in Aix-en-Provence, Gregory stayed with a host family and participated in the honors French immersion program. That meant she took five courses, all taught entirely in French.
"I had great professors," she says. "One, Muriel Cros, didn't know really much English at all, but she was just the most passionate French woman I have ever met in my entire life. She loves the French language, and I feel like her enthusiasm made me even more excited about the language and breaking down some of the nuances."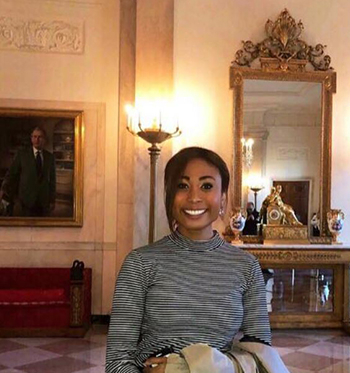 In D.C., Gregory (pictured at right during a visit to the White House) worked as a marketing and communications intern for the French Academy, which offers French classes and education for students of all ages.
"One idea of mine that we were able to bring into fruition was a holiday workshop: We had people come during the holidays to do wine-tasting, try different cheeses and learn different French terms," she says. "It was an opportunity for people to come together and have a fun evening but also learn French."
Eileen McEwan, associate professor of French who was a visiting professor at IAU during Gregory's semester there, taught Gregory at Muhlenberg and in France.
"I loved having her in class because she was always engaged, curious and loved to speak French," she says. "Very frequently she would come into class and tell me about someone she met who she overheard speaking French somewhere—like during a visit to the MoMA or in a restaurant or on the street—and how that contact developed into a friendship. Her network is huge due to her warm personality and her eagerness to use her French in every way possible."
Gregory is currently working at a payroll company in Allentown. She's keeping up her French by tutoring and reading French novels en route to a very specific long-term career goal: to be a brand strategist for a French cosmetics company. The time she spent in France, she says, was critical in helping her develop the conversational language skills she'd need in such a role.
"Our idea of fluency is something that seems so easy to attain, but we don't realize that there are so many nuances in the languages," she says. "I learned so much while studying abroad. I'm so much stronger in my French now."